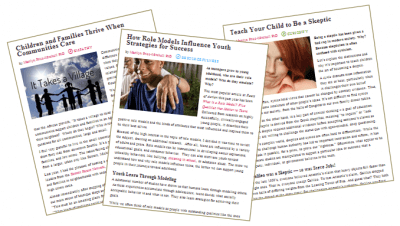 Thank you for your interest in sharing articles from Roots of Action. Please read the following guidelines regarding reprints. If you need further information, you are welcome to contact us.
Non-Digital Reprints
If you are a school, nonprofit organization,  or parent educator, we are happy to permit the use of any of our articles as printed handouts or in printed newsletters. You also have permission to translate them into other languages. In this situation (when it does not appear online), we require that you include the author bio with the article, and the following statement: Reprinted with permission. Visit www.rootsofaction.com for additional articles on positive youth development. 
Digital Reprints for School and Nonprofit Newsletters
If you are a school or 501(c)(3) nonprofit organization, you are granted permission to reprint any ONE article from Roots of Action in EACH newsletter disseminated to parents and/or educators via opt-in email subscription, provided you do not reprint any of our latest six (6) articles, as listed from the top of the Articles Page. For digital reprints you must include the author bio with the article in addition to the following:  Reprinted with permission. Visit Roots of Action for additional articles on positive youth development. A copy of your newsletter can be archived online, as is common practice for many email newsletter services. However, if you wish to reprint articles directly to a web page, please see "Digital Reprints" policy below. 
Digital Reprints
We do not grant permission to reprint the full text of any of our articles online without written consent, except as outlined above. However, you always have permission to post the title and approximately 150 words of the article, followed by a hyperlink that directs the reader to the original article. This is a common practice followed by reputable websites worldwide. In addition, please include the author bio somewhere on the same page.
Reprinting Specific Resources
In addition to articles, we offer specific resources that can be freely printed and distributed. These include My Parenting Promise, Our Community Promise, I Have a Dream, and the handout Eight Pathways to Every Child's Success. You have permission to link to these digital resources from your website but you may not host them on your website. These resources may be translated into other languages with our permission. Permission to translate requires that you provide us a copy of the translated version, with original copyright information, to offer free on our website.
Compass Graphic
You have permission to use the compass graphic in posters and other materials for your family, school, or organization. Wherever it is used, you must include: © Marilyn Price-Mitchell PhD, as contained in the original graphic. Contact us for translation permissions.
Social Media Sharing
We always appreciate you sharing any of our articles on social media! You not only have our permission, you have our gratitude as well!
If you want to be notified of new articles, please sign up for Updates at Roots of Action. Thanks for your interest in our articles and resources. If you have any questions, please don't hesitate to contact us.
Best wishes,
Marilyn Price-Mitchell, Ph.D., Founder, Roots of Action