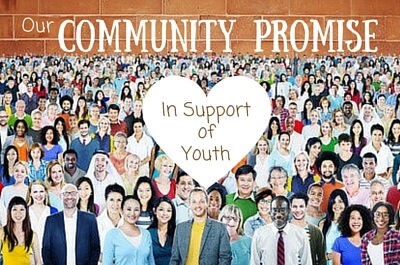 What is collective impact? And how can it make a difference for children and teens?
Collective impact is a relatively new term and strategy for helping communities effect positive social change. For example, most communities offer a variety of support to young people through after-school programs, services, internships, etc. But that support is mostly fragmented. While many individual programs claim success at improving children's mental health and/or academic achievement, it's often difficult to see improved results on a community-wide level.
Strategies used in collective impact efforts aim to reverse fragmentation by working with all stakeholders.  Using The Compass Advantage as their organizing framework, one U.S. city worked with many stakeholders to impact positive youth development. Results were realized on many levels. Their work was informed by research, including studies by Foundation Strategy Group, authors of the excellent article on collective impact in the Stanford Social Innovation Review.
The Role of a "Community Promise" in Collective Impact
The community promise, pictured below, was first developed for a collective impact effort that began in 2014. It summarizes decades of research in human development, particularly how positive human relationships help children and adults thrive.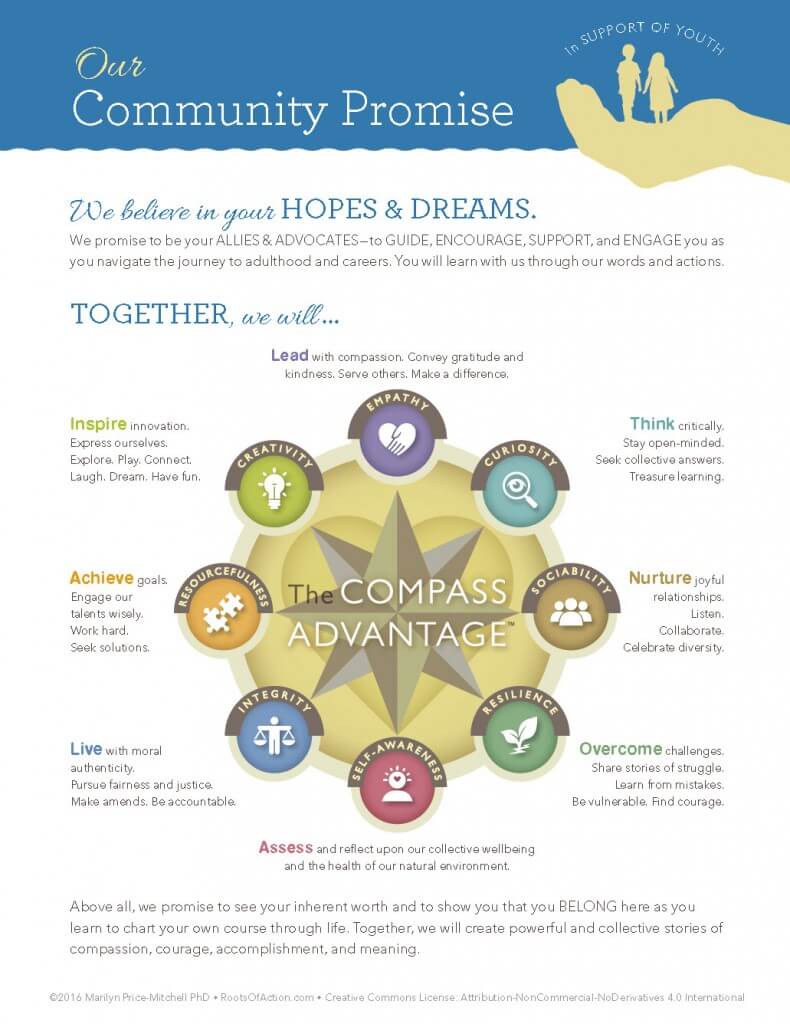 The community promise reflects a set of mutually reinforcing activities that enable all stakeholders to impact positive youth development. Because parents impact children in a different context, the Parenting Promise was developed with the same reinforcing activities.
For far too many years, communities have focused on ways to fix kids' deficits rather than building on their innate strengths. We've grappled with kids' declining mental health and increasing use of drugs and alcohol for years. And while we've made progress in many areas, our children deserve so much more.
They deserve to dream—and to feel like they belong. (See I Have a Dream, created collaboratively by young people.) They deserve to believe in themselves and their abilities to chart their own meaningful paths through life. They deserve to feel seen, heard, and understood. Sadly, most children don't feel this way.
We know that children thrive when parents, schools, and communities nurture their healthy development. But how do we move from talking about our children's challenges to acting effectively on their behalf? Collective impact may be an answer.
Through collective impact strategies, communities take small everyday steps to make positive change together. Some of you might be thinking to yourselves: "That's a BIG promise! How can we ever live up to all of that?" Here's my answer: In any human endeavor that is worth our time and effort, it's important to take a stand and to say out loud what we stand for.
That's what making a promise accomplishes. It sets an intentional path for us to live together in ways that support the healthy development of children and teens. It holds us accountable for our actions, and enables us to make amends when we make mistakes. When we model the words and actions of this promise to our children, we not only support their dreams, we positively change their lives and our own. As you read through the promise, consider the following:
In what ways does your community foster the compass abilities in youth?
What else could you do to further support the community promise?
You are welcome to download and print Our Community Promise, which is meant to be displayed adjacent to I Have a Dream in classrooms, businesses, government agencies, and nonprofits. To do so, either click here or on the image above.
Featured Image: rawpixel
Published: February 3, 2016