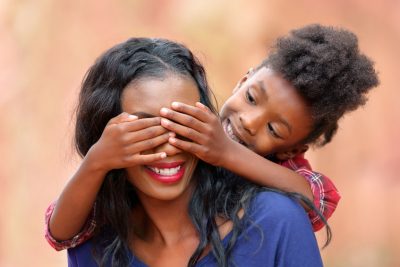 "Name twenty things you love about me," my younger daughter requested just as I was shutting the door to her bedroom.
Because I immediately thought about the dirty dishes in the sink, the work I had yet to do before I could go to bed, and the ache in my back, I almost said, "Not tonight."
But I didn't.
Instead, I slowly made my way back to her bed and rattled off things like, "I love your smile … I love the way you sing … I love how you help your friends … I love the way you make me laugh … I love the way you take your time … I love your strong hugs …"
I made it to twenty quite quickly, and I watched the smile on her face get a little bigger with each one.
"Thank you, Mama. I love how you love me," she offered back as she rolled over preparing to sleep.
It took less than one minute, this little request of hers—but there's a good chance she will remember this list, this very important list.
I don't always get it right. I don't.
But over the past six years on this Hands Free journey, my eyes have been opened. I can now see clearly that my days are made up of a million little choices—choices to grasp what really matters or let them slip through my multi-tasking little fingers.
That night I got it right.
I chose the girl who still stands on her tiptoes to reach the sink.
I chose the girl who still likes me to read her bedtime stories and hold her hand in the parking lot.
I chose the girl who sings made-up songs while offering me dandelion bouquets.
I chose the girl that has wiggly teeth and a contagious laugh.
With the kitchen in disarray and deadlines looming, I chose my child. Because I still can. Today my child stands before me wanting, needing, and hoping to be chosen. Tomorrow might be different.
Choice 
Whether I grasped what really mattered or let it slip through my fingers came down to one choice—the choice took less than sixty seconds, but the memory may very well last a lifetime.
This powerful fact has been giving me a lot of hope lately.
Because honestly, things have been different around here.
I've been dealing with an ongoing medical issue, an upcoming book release, sleeping difficulties, unexpected travel, and the tricky navigation of life. Honestly, it's felt overwhelming at times. It's felt scary at times. It's felt very unlike the way I want to live my life at times.
And then I have the "name 20 things you love about me" experience, and I remember. It's what I've been telling my readers for years—those who write to me and explain the painful circumstances of their lives:
I am going through a divorce … 
I only see my children on weekends … 
I lost my house and now we live in a shelter … 
I am now working three jobs … 
I am going through a tough time financially and emotionally … 
I am not in a good place right now …
They all want to believe that despite their current life circumstances, they can still choose love and grasp the moments that matter.
What I always tell them (and what I wholeheartedly believe) is that it is not about how much time you have with your loved ones—it's about maximizing the time that you do have by choosing to be fully present in those moments of togetherness.
Choice 
It can mean the difference between grasping what matters and letting it slip through your fingers.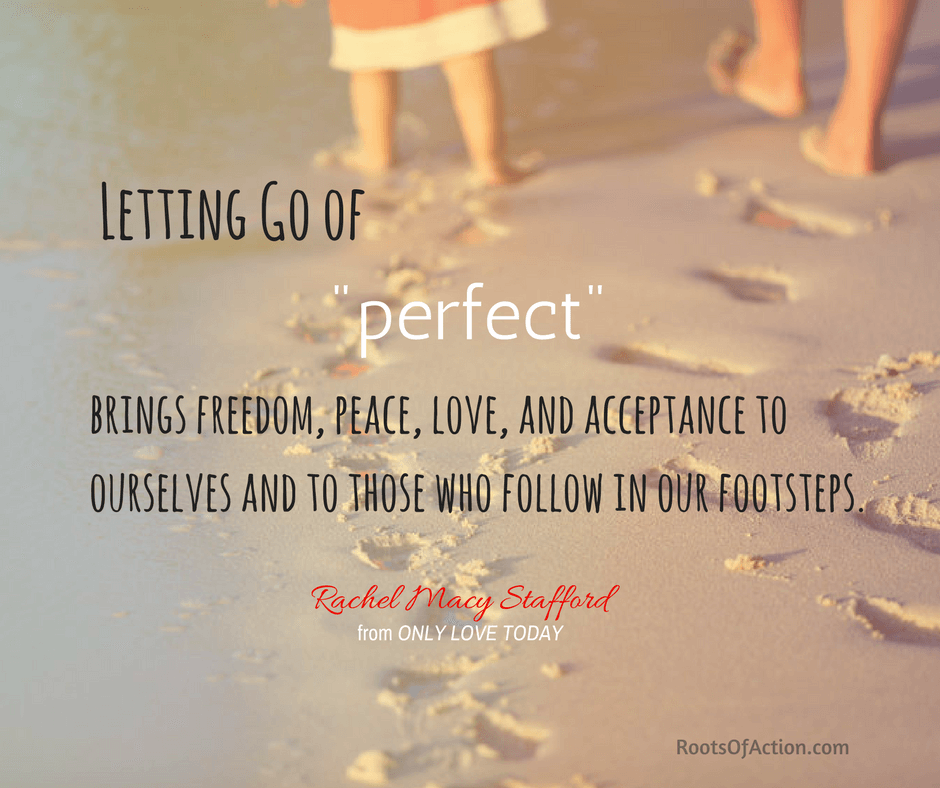 7 Parenting Choices That Matter to Children
Here are seven choices parents can make despite life's pace and pressures that will greatly impact a child's life:
1. Choose to ask their opinion.
Whether it's: "What flowers do you think we should plant in the yard?" or "How do you think our family should handle this?" asking for your children to weigh in on a decision makes them feel important and valued. In addition, it provides great practice for them to make sound decisions without you.
2. Choose to step aside.
Maybe it's folding their laundry in their own way, pouring their own cereal, picking out their own clothes, or managing their time. By letting go of the need for tasks to be accomplished quickly and in a certain way, you foster life skills and confidence in your children.
3. Choose to listen with eyes, ears, and heart.
Attentively listening to your children's dreams, needs, and questions results in the ability to know them intimately. And when a person feels known, they feel loved and understood in the most powerful way possible.
4. Choose to make time especially for them.
Some of the most powerful words you can say to another person are: "I've got ___ minutes and they are all yours. What do you want to do?" Although it appears to be a gift to the recipient, you may find yourself walking away from that time of connection feeling more peaceful and fulfilled than before you started.
5. Choose to give breathing room.
Let there be breathing room when it comes to the shot they missed. Let there be breathing room when it comes to your children's schedule. Let there be breathing room when it comes to their emotions. Taking risks, learning, growing, and expressing emotion mean there will be mistakes; there will be meltdowns; there will be challenges. Give your children breathing room to be human, and you'll see them prosper and thrive.
6. Choose to express love whenever you feel it.
Rather than saving the words "I love you" for nighttime tuck in, departure time, holidays or achievements, get into the habit of saying it when you feel it—like when her beauty astounds you … like when his giving heart shines through … like when you notice the joy they bring to the world. When the words, "I love you," are not tied to situations or achievements, they are better emphasized, better heard, and better absorbed.
7. Choose to love them "as is."
Substantial growth happens when we stop trying to change the perceived weaknesses in our children. Spirits flourish when we make a conscious effort to look past flaws and mistakes and notice the good before all else. When critical thoughts become critical words, silence them with the powerful mantra: "Only love today." Constant criticism creates a toxic environment where no one wants to be. Love creates a home that people want to come back to—even when they are grown. Choose love as much as humanly possible and you will impact your child's day and future in the most profound way.
Share the Infographic!
The following infographic was created from the material in this article. Please feel free to copy, print, and share it with others!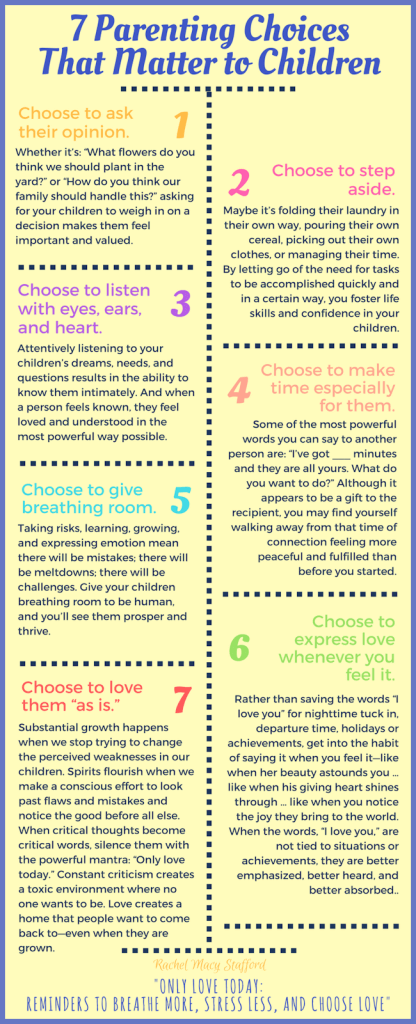 Editors Note: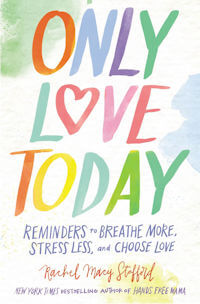 This article is a small sample of what you will find in Rachel Macy Stafford's book, Only Love Today: Reminders to Breathe More, Stress Less, and Choose Love. With a unique flip-open, read-anytime/anywhere format, this book is soulful encouragement for busy parents and individuals yearning to anchor themselves in love despite everyday distractions, pressures, and discord. "Only Love Today" began as a mantra to overcome her inner bully, but it is now the practice of Rachel Macy Stafford's life. It can be a practice for all of us. Join Rachel and her supportive community at HandsFreeMama.com and on Facebook at The Hands Free Revolution!  Join the #onlylovetoday movement!
Published: February 22, 2017