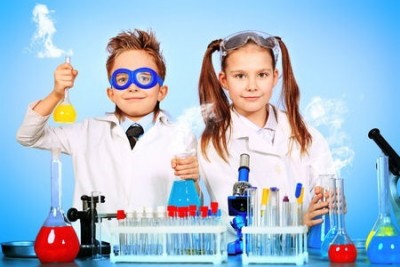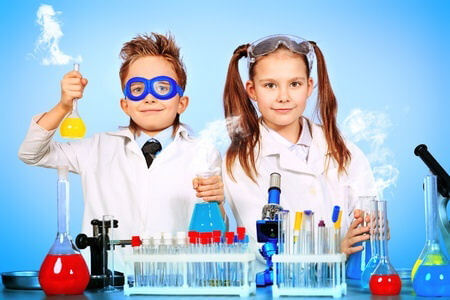 If you're looking for creative science experiments for kids, we've got some great resources for you! Whether or not you have a budding ecologist, neuroscientist, or engineer, all children gain important abilities when parents support and encourage doing at-home, easy science experiments.
For kids of all ages, the benefits are enormous. Doing science projects helps develop a child's resourcefulness, particularly their skills at goal-setting, planning, and problem-solving. It also nurtures intellectual curiosity, helping children acquire new ways of asking questions and understanding the world.
Scientific exploration is a great summertime activity for families or just plain old-fashioned fun during the school year. When accomplished in a non-competitive home or after-school environment, children are free to discover new interests that often lead to fascinating hobbies or educational pursuits.
How Parents Boost Kid's Fun and Learning
To get the most out of science experiments, kids need to choose the activity and be involved in planning, decision-making, and executing the experiment. If you are inclined to browse the Internet for just the right science experiments, stop! Your kid's brains will thank you later in life because you allowed them to feel what piques their own interests. Let them decide what's cool!
Kids have more fun learning (and learn more!) when parents see themselves as mentors. Good mentors listen, ask questions, encourage, and support. As you begin to plan and evaluate science experiments, you may find the following guidelines useful:
Discuss ideas with your children to determine their areas of interest.
Take your children to a library or help them think through keywords for internet searches that will produce attention-grabbing results. (You can start with the ideas below, and then expand from there.)
Let children read about and find the right materials for the project or experiment. If it means shopping for supplies, make sure your child accompanies you to the store and chooses wisely.
Monitor your child's safety and check that correct procedures are followed. If you notice an important missing task, ask a question! "Have you rechecked the directions?" "I'm a little confused…can you go through this procedure with me?"
Fun science experiments for kids are often full of surprises! When stumbling blocks or surprising results occur, ask questions to help your child find answers. "What else could you try?" "Why do you think this result occurred?" "What will you do differently next time?"
Following the experiment, invite your child to reflect on what happened and how. "What did you learn?" "What other projects or experiments would be fun to try?"
Whether the experiment failed or succeeded, praise children for their hard work, perseverance, ability to follow directions, and other skills they used during the project. Remember, it's the whole process of planning, organizing, and executing that engage kids in learning, not just the end result.
Choosing Science Experiments for Kids
The first and most important part of choosing a science experiment for kids is finding the right match between the project and the child. The websites below offer insights into the many science categories and topics that can pique children's interests at a variety of ages, from pre-school onward. Have fun exploring them with your child!
For Kids with Specific Interests
Astronomy  – Learn about planets, stars, moons, galaxies, asteroids, comets, telescopes and all kinds of astronomical objects.
Biology – Biology activities and lesson plans for classrooms that can also be done at home, from growing plants to learning about food.
Chemistry – You will be able to experiment with color-changing chemicals, test the nutrients of different food substances, grow crystals, make invisible ink, and much more.
Dinosaurs – Have fun learning about these mighty creatures that lived millions of years ago. Enjoy fossil projects, videos, and fun activities.
Energy and Electricity – Offers kid-friendly science facts, science experiments and tips on places to learn about science. The experiment supplies are a bit more technical for these.
Food – Spend some time in the kitchen exploring these 10 fun and easy food science experiments – some you can even eat!
Earth Science – Provides several easy, classic, and fun earth science experiments.
Physics – You will find fun experiments you can do with stuff you probably already have around the house.
Nature – Learn about animals, plants, oceans, recycling and all kinds of interesting nature topics.
Neuroscience– Sponsored by neuroscientist, Eric Chudler, Ph.D., there are neuroscience experiments for kids and all kinds of inside and outside activities and experiments related to neuroscience. For children of all ages.
Rocks and Minerals – provides innovative hands-on activities, demonstrations, and creative learning tools.
Weather – This site has numerous experiments your budding meteorologist can perform. Make thunder, lightning, and even a rainbow!
For Kids with Eclectic Interests
Bizarre Stuff – In their words, "This site is an ever-growing warehouse of the kinds of projects some of the more demented of us tried as young people, collecting in one place many of the classic, simple science projects that have become part of the collective lore of amateur science."
Enchanted Learning – Educational website that has over 35,000 pages covering a wide range of topics. The site includes educational activities that emphasize creativity and the pure enjoyment of learning.
Kid Spot – Simple science experiments searchable by age and interest with easy-to-follow, step-by-step instructions.
Ology – The science website for kids from the American Museum of Natural History. From a long list, kids can choose which "ology" they would like to explore.
Reeko's Mad Scientist Lab – Great site for science experiments and science news.
Science4Fun – Founded by an electrical engineering student, this site has a variety of experiments and articles for kids and teens on subjects that include animals, planets, electricity, renewable energy, and physics.
Science Buddies – A vast site that contains activities for all ages and interests. Also includes science fair project ideas.
Science Experiments for All Around your Home – Great suggestions for experiments in every room of your house!
Science Bob – "Science Bob" Pflugfelder is an award-winning science teacher whose science experiments for kids have been featured in many magazines.
Science is Fun – University of Wisconsin-Madison Chemistry Professor Bassam Z. Shakhashiri, shares the fun of science through home science activities.
School of Dragons – Contains fun and easy science experiments for kids, and includes printable experiment instruction sheets.
Weird Science Kids – Provides a large variety of easy and free science experiments and science demonstration videos that introduce children to the basic concepts of science and how it relates to the environment that surrounds them.
Wonderville – This award-winning site has a reputation for scientific accuracy and encourages exploration and curiosity in youth of all ages.
Very Cool Science Experiments for Kids of Different Ages
Especially for Pre-Schoolers:
PBS Parents – A great site whose goal is to make your child's first memories of science fun and meaningful. Contains science activities for preschool and kindergarten ages.
Science Sparks – Wonderful site full of fun science experiments – from making fizzy paint to discovering what makes the best pretend snow.
Especially for Elementary School Kids:
Funology – Introduces your kids to the world around them with fun and educational experiments.
Home Science Tools – Designed for preK through 4th grade, these hands-on activities and science experiments for kids focus on tactile subjects like bubbles, magnets, and ladybugs.
Science for Kids  – Choose from chemistry experiments, physics games, biology lessons, animal videos, technology activities, space images, weather projects, plant diagrams, and much more.
Especially for Middle Schoolers:
Hunkin's Experiments – Creative cartoons that will have you experimenting with food, light, sound, clothes, and a whole lot more. Hundreds of cartoon experiments from cartoonist, broadcaster and engineer Tim Hunkin.
Scientific American – Features a fun, new, science-related activity every week that parents and their middle schoolers can do together. Adults will find easy-to-follow instructions and simple materials lists, as well as additional background to help them explain key concepts.
Photo Credit: Andrey Kiselev
Published: June 23, 2015
Tags:
Children & Nature
,
critical thinking
,
education
,
initiative
,
internal rewards
,
learning
,
mentoring
,
parent engagement
,
parent involvement
,
parenting
,
positive youth development
,
praise
,
problem solving
,
reasoning