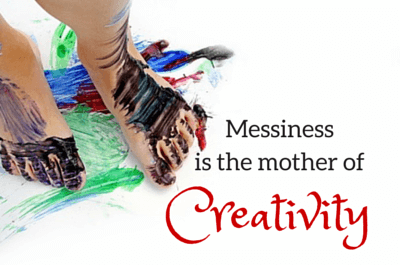 When I think about art projects for kids, I instantly recall the time my 4-year-old daughter spilled a plastic container of paint over the head of our new Jack Russell Terrier puppy. The painting project I had carefully planned and organized evolved into a very long afternoon of complicated cleanup. Needless to say, neither I nor the puppy was amused.
Most parents can recall these kinds of stories about their young children's messy and often chaotic home art projects. For kids, the temporary mess and disorder are only a small part of the story. Developmentally, art projects open windows to kids' lifelong creativity. Even if children don't display extraordinary artistic talent, art projects for kids at all stages of ability have been shown to contribute to their sense of aesthetics, imagination, ingenuity, inventiveness, and originality. Messiness is the mother of creativity!
6 Ways Parents Nurture Creativity through Kids' Art
As the typical overseer of art projects for kids, parents nurture their child's creativity in a number of important ways. Here are a few research-based tips that will enhance your child's artistic experience and lifelong learning:
Let your child get messy. Creativity evolves from chaos and disorder. So be ready for the cleanup and consider it an important part of the process.
Think of art projects for kids as play opportunities. When art is experienced as a creative, playful process children feel internal rewards from the doing, not just from the end results. Help children take pleasure in the creation of art by praising them for their hard work, perseverance, and ingenuity. When parents emphasize the product over the process, kids' interest in art quickly diminishes.
Help kids see art in nature. Art is all around us, and many would say Mother Nature is the ultimate artist. Research shows that connecting to nature is linked to a child's lifelong happiness. When pondering art projects for kids, consider using natural materials that your child has gathered outdoors and can manipulate in creative ways.
Celebrate your child's differences. The beauty of art and aesthetics is in the eye of the beholder. Art allows us to experience people who see, feel, and understand differently from others. Encourage children to express their differences through art and praise them for their self-expression.
Create a relaxing and reflective environment. Think of art projects for kids as food for their souls. Create a relaxed, no-pressure environment for them to soar. Help kids connect artistic experiences with their feelings by asking questions like, "How does what you just created make you feel?" These types of questions nurture self-awareness.
Squelch perfectionism. Art is a medium where children should be free to make mistakes and take risks. Art projects are learning laboratories, where kids grow from inadvertent slip-ups and inaccuracies. I love the children's book Beautiful Oops by Barney Saltzberg. Check out a video from this book to get a glimpse of how the best learning can happen through art:
Discovering Creative Art Projects for Kids
The very best art projects are the ones that appeal most to your child. When children take part in choosing the project, they are more internally invested in the process. The Internet is full of great arts and crafts ideas for children. Here are a few of our favorite places to start exploring:
Image Credit: christingasner
Published: July 27, 2015
Tags:
art
,
Arts Education
,
parent engagement
,
parenting
,
positive youth development
,
summer activities