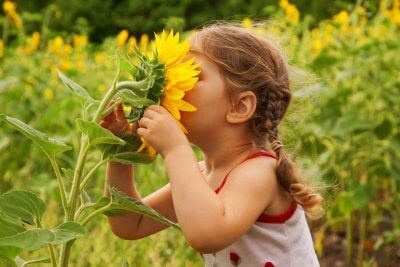 What are the benefits of nature? How does nature improve children's health and well-being?
These are a few of many questions addressed by researchers in recent years. The answers provide important insights for families and schools.
There are many scientific studies that underscore the benefits of nature, including stress relief, improved short-term memory, increased mental energy, less inflammation, better vision, improved concentration, creativity, and improved mental health. For families, the great outdoors is a natural playground that contributes to a child's positive development.
No special equipment is necessary. In fact, children can be mesmerized with the simplicity of nature and the creative possibilities that emerge.
I write this article, not only as a developmental psychologist and researcher, but from my own experience. I was one of those kids who loved being outdoors.
I could be fascinated for hours watching armies of ants move breadcrumbs from one ant hill to another. As I sat in our backyard cherry tree, I wondered why the birds liked to eat cherries before they were ripe. I was in awe of nature's mysteries.
As I reflect on my childhood experiences many years later, I attribute my connection to nature as an exceptional source of inspiration and creativity.
Why Is Playing Outside Important?
Children require exercise to develop physically and mentally. They need to explore, take risks, question, experiment, discover, sing, dance, and imagine. These activities abound in the outdoors and are some of the many benefits of nature.
We know that contact with nature is a source of wonder and inspiration for children, and essential to their healthy development and sense of spirituality.  In fact, research studies show that nature increases youth creativity, reduces stress, and helps kids who suffer from attention-deficit disorder.
Children of all ages must learn to push their physical limits and explore emotional boundaries. How high can I climb? Do I dare jump further than I ever have before? What happens when I skip a rock in the pond? The benefits of nature create a beautiful backdrop for exploring oneself.
A 2005 study by the American Institutes for Research found that kids who learn in outdoor classrooms improve their science scores by 27 percent. Not only is outdoor education critical for child development, researchers suggest it is also important for the future of the planet. We know that when children and adults connect with nature, they are more apt to become environmentally conscious citizens.
Benefits of Nature vs Technology
The impact of media is a growing topic of research, particularly during childhood. In 1970, the average age at which children watched television was four years old. Today, the average is four months. The typical child before the age of five is watching 4.5 hours of television per day, 40% of their waking hours!
As children grow to teenagers, media usage jumps exponentially, with computers and social media playing ever-important roles. Most studies on the digital health and emotional well-being of children agree there are pitfalls and benefits of technology.
What about nature? I have never seen a study showing the disadvantages of nature on the health and well-being of children! Studies abound on the benefits of nature!
In his award-winning book, Last Child in the Woods: Saving Our Children from Nature-Deficit Disorder, Richard Louv delves into the benefits of nature for children. He links the lack of nature in the lives of today's wired generation to troubling childhood trends, including the rise of obesity and depression.
Louv spurred a national dialogue about the benefits of nature among parents, teachers, and health professionals referred to as the Leave No Child Inside movement.  In fact, educators and policymakers are so concerned with the lack of children's connection to nature that the No Child Left Inside Act of 2009 was created to help fund training and provide resources for environmental education.
An excellent video demonstrates the many ways children and nature collide to positively affect development.  Children develop critical thinking skills as they learn to make inferences and draw conclusions. They learn by tasting, touching, and seeing wildlife and flora in ways they could not learn from a book. Bringing children and nature together helps teach respect for the planet and the ways we are inextricably connected.
This popular TEDx talk by Dr. Milda Cosco explains why children should be outside and how experiential activities in nature forms lifelong positive memories.
8 Activities That Bring the Benefits of Nature to Children
Richard Louv, recipient of the 2008 Audubon Medal, provides a great list of activities for families in his online Resource Supplement to Last Child in the Woods. The Supplement also lists good books that facilitate the connection of children and nature as well as helpful links to sites where your child can learn in the great outdoors. It's amazing how many activities are available in our own backyards! His suggested activities include the following:
Maintain a bird bath or a bird feeder.
Encourage kids to camp in the backyard.
Build a backyard weather station.
Make a "green hour" a new family tradition, giving children time for unstructured play in the natural world.
Invent a nature game on a hike in the country.
Build a tree house with your kids.
Plant a garden.
Raise butterflies.
Act Today to Help Children Connect with Nature
Parents, schools, and communities can get great information on outdoor activities and access studies on the benefits of nature from the Children & Nature Network.  Read the research, get leadership training, download infographics (like the one below), and learn how to act on behalf of children in ways that facilitate their health and well-being.
For ideas on many more nature activities for kids, check out the following resources:
Hands On As We Grow – Focused on activities from infant through grade school.
Family Education – Offers 10 hands-on nature activities for children.
Left Brain Craft Brain – Has STEAM nature activities for children and teens.
Mom Junction – Suggests 10 fun outdoor activities specifically for teenagers.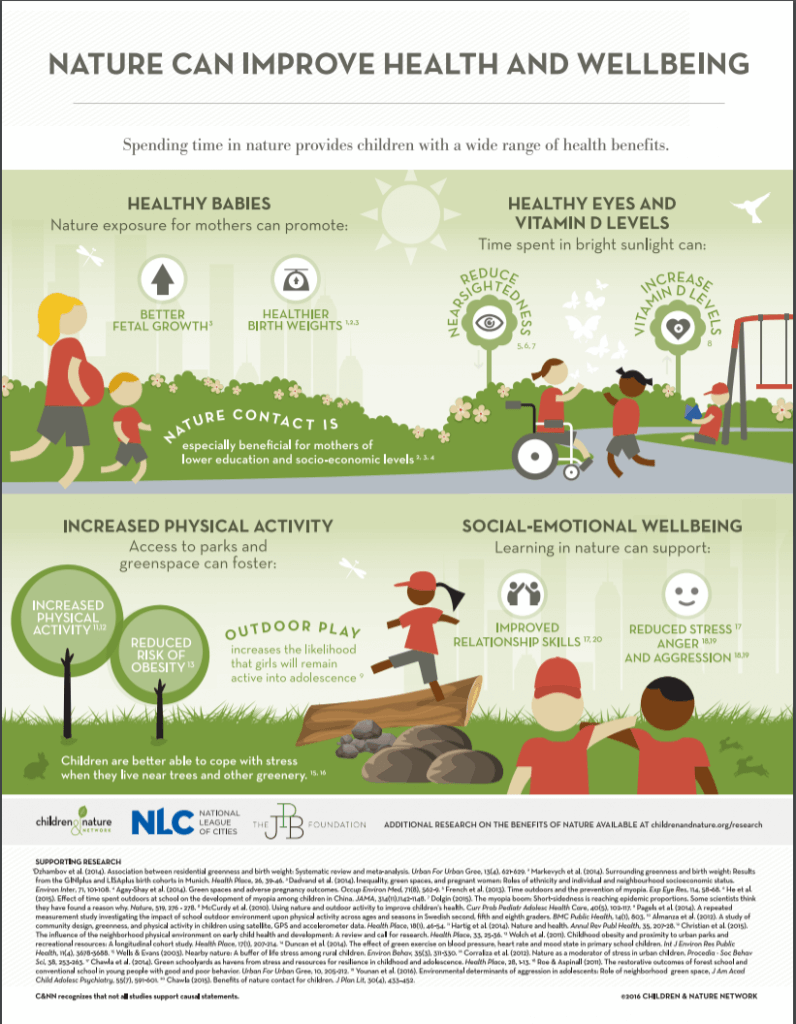 References
American Institutes for Research (AIR) (2005). Effects of Outdoor Education Programs for Children in California. Palo Alto, CA.
Bell, A.C. and J.E. Dyment (2006). "Grounds for Action: Promoting Physical Activity Through School Ground Greening in Canada." Evergreen
Faber Taylor, A., Kuo, F.E., & Sullivan, W.C. (2001). Coping with ADD: The surprising connection to green play settings. Environment and Behavior, 33(1), 54-77.
Louv, R. (2008). Last Child in the Woods: Saving Our Children from Nature-Deficit Disorder, Algonquin Books.
(This article was first published on June 29, 2011. It was updated and revised with new information and research on Dec. 2, 2018.)
Published: December 2, 2018
Tags:
Children & Nature
,
critical thinking
,
positive values
,
Spirituality