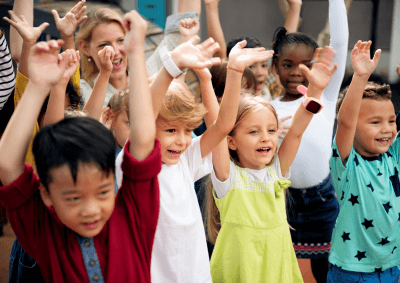 Developing emotional intelligence in children is critical to their success in life. Often characterized as the depth to which individuals experience and perceive emotions, emotional intelligence can be exercised, just like intellectual intelligence, through meaningful children's activities and experiences.
Singing songs about feelings is one way that expands children's emotional intelligence. Creating an awareness of the broad spectrum of emotions we all encounter promotes growth, flexibility of thought, nurtures empathy, and contributes towards establishing understanding connections among peers.
Learning and singing songs together about emotions can generate meaningful conversations about why children feel the things they feel, what purpose these feelings serve, and how understanding our own emotions can help us develop sociability, on a meaningful and comfortable level, with others.
We all know how easily a song can get "stuck in our heads." The potential for retaining information increases exponentially when we use a song as a mnemonic (memory) device. If the message within a song is designed to help children identify, understand, and process emotions, then a song can become a very valuable tool to which children can refer as they navigate through experiences that elicit different emotional reactions. 
Developing Emotional Intelligence, One Song at a Time
Children grow in emotional intelligence by learning about themselves–about what makes them unique and special. Songs like "Wonderful You" facilitate self-awareness and remind kids to "remember the good things that make you yourself."
It's important to begin developing emotional intelligence by identifying and validating feelings while children are very young. Perhaps you are among the few who were taught the version of "If You're Happy and You Know It," in which the actions reflected the feelings:
"…If you're happy and you know it, clap your hands…(clap clap)"
"…If you're mad and you know it, stomp your feet…(stomp stomp)"
"…if you're sad and you know it, cry out loud…('waaaaaah!')"
This simple action, association, and role-playing song taught safe and healthy ways of expressing emotions without hurting anyone (or ourselves). Somewhere along the way, these varying actions morph into "…if you're happy and you know it, clap your hands…if you're happy and you know it stomp your feet…," but there's something valuable there that's lost when we change all the emotions to "happy."
A song like "Faces," from "Senses" (2019), is an effective teaching tool when introducing younger children to the broad spectrum of emotions we feel. The video flips through about 70 different faces, and the lyrics describe how parts of the face move around to "share what's inside of you." This song is helpful in establishing a connection between facial expression and emotions, a concept with which many children struggle.
Mr. Rogers' song, "What Do You Do with the Mad That You Feel," addresses harder/more painful feelings children encounter, and provides suggestions that can help express those feelings safely.
"It's Alright To Cry," from "Free To Be…You And Me" by Marlo Thomas and Friends is another good example of a song that provides a message about crying that really sticks with children—one that easily helps them remember that crying helps our feelings "come out," which can help make us feel better.
A song can serve as a guide for developing an "emotional vocabulary." "Hard Feelings," from "Senses" (2019), provides descriptive words that identify emotions, like "disappointment," "frustration," "sadness," "fear," and "aggravation." Even though these words might seem "too complex" to an adult, children experience complex feelings and benefit from being taught words that describe them accurately. This song is an easy place to start.
"Hard Feelings" also serves as an "inner voice" to help children guide themselves through emotional regulation: "When it's happening, stop and say what it was that made you feel that way. Take a breath, close your eyes, too. Take some time to think and try to work through your hard feelings."
Reassurance is something adults provide for children when they're upset. "Hard Feelings" reminds the listener "everybody that you know feels hard feelings," and that "feelings come and feelings go," so no matter how hard it feels now, "….feelings change inside us all the time." This kind of "self-talk" can help reassure children (and, when they learn the lyrics, help children to reassure themselves) through what they're experiencing emotionally when they are alone with their feelings.
Ways to Help Children Process Feelings Through Song
Singing together is a great way of developing emotional intelligence in children. It has been proven to strengthen relationships, elicit feelings of joy, aid in relaxation, and provide for the opportunity to connect on an emotional level. Some songs stick with us and even become a mantra we remember during difficult times, which can be helpful for parents as well as children.
Sometimes, just listening to a song can be helpful to children. For example, the song "You're with Me" was written to help children process loss and grief. It helps children know that the relationships we build with people are always a part of us. The lyrics are below.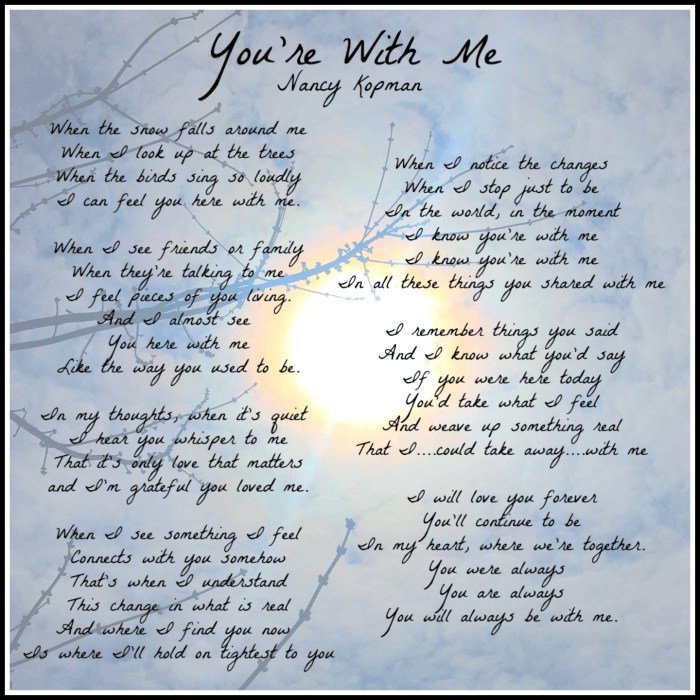 The following discussion questions can help children process and learn about their feelings after singing and listening to songs about emotions. Listening to children as they talk through the answers to these questions is yet another way of developing emotional intelligence, helping kids articulate their own feelings and ways of coping with "good" and "bad" feelings.
How many different feelings can you think of?
Can you think of different colors that match different feelings?
Is there a sound you can make that sounds like (name an emotion)?
How do you feel when someone you know feels (emotion)?
What would you tell someone who was feeling (emotion) to help them?
What do you do to help yourself when you are feeling (emotion)?
Which feelings last a long time for you? Which feelings last a short time?
Is there such thing as a "good" feeling or a "bad" feeling? Why do you think so?
If you've experienced ways of developing emotional intelligence in children through song, please feel free to add to the song suggestions in this article in the comments section below.
Published: November 4, 2019