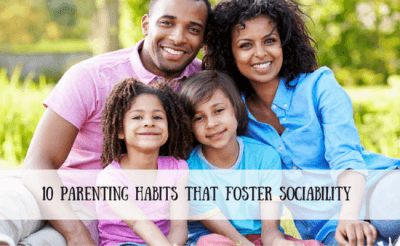 Each of us wants our children to develop positive relationships—to experience the power of unconditional love, support, friendship, and encouragement throughout school and life.
But we also know that creating and sustaining relationships is hard work—effort that requires a cooperative ability to interact with others.
Psychologists call this capacity sociability, and we recognize it in children when we observe their enjoyment of being together—chatting, joking, laughing, working, and creating friendships. Sociability often gets confused with being an introvert or extrovert. But if we think of sociability as a higher level concept than introversion or extroversion, this attribute is easier to grasp.
Simply put, all children, regardless of personality type, can learn to understand and express feelings and behaviors that facilitate the kinds of relationships necessary for human thriving. Some kids express their abilities in quieter, introverted ways, while others interact in more energetic, extroverted ways. Neither path is superior to the other. They are merely different paths toward the same goal.
Why Sociability Is Important to Kids' Learning and Life Success
It may surprise you to know that sociability goes hand in hand with learning. How? According to research on the social nature of how kids acquire knowledge, positive social interactions is what helps children make the invisible visible, cross boundaries into new spheres of learning, and initiate thoughts and feelings that help them chart pathways through life.
In fact, sociability is at the core of social learning and emotional wellbeing.
Aspects of sociability include self-regulation, active listening, cooperation, and effective communication. We don't have to look far for research that shows the benefits of sociability and its related social-emotional skills on children's success at school. These skills are developed through relational experiences at home, school, and in after-school activities.
In recent times, these "softer" skills have been most recognized and valued by social scientists whose research has linked them to positive development, happiness, intellectual growth, and wellbeing. Sociability is interconnected with each of the other abilities in The Compass Advantage —curiosity, resilience, self-awareness, integrity, resourcefulness, creativity, and empathy. Educators and business leaders agree that sociability is a key to learning, leading, managing, and innovating in a world of increasing complexity.
We foster sociability when we facilitate the conditions under which our children feel loved, respected, cared about, and can communicate their feelings of connectivity with others. Below are ways you can start today to boost your child's sociability!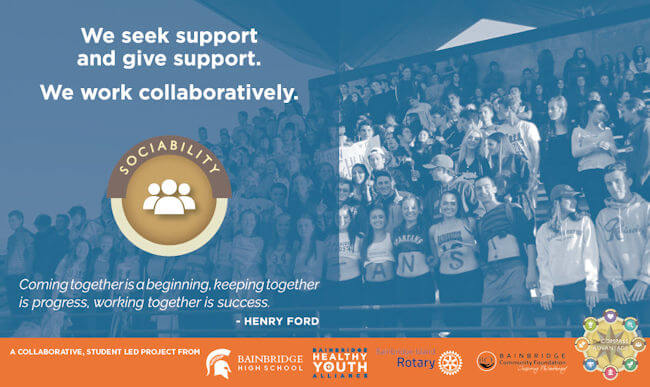 Students from Bainbridge High School in Washington State chose the photo, words, and quote for the above SOCIABILITY banner — one of seven that hang in the hallways of their school to remind all students of the core abilities that matter most to their development and wellbeing.
10 Parenting Habits that Foster Sociability
1. Prioritize a loving relationship with your child. 
A child's healthy social development depends on having a strong, loving relationship with at least one primary caregiver. In most cases, this relationship is with a parent. Families foster sociability by listening to each other with love and respect. They communicate, cooperate, and set boundaries in positive ways, without shaming or blaming. There are hundreds of everyday ways to grow a loving relationship with your child. Read a quick list of 50 of them!
2. Instill emotional intelligence early.
What is emotional intelligence? It's about the connection we feel between body, mind, and spirit — and how we make sense of our sensations, thoughts, and feelings. One of the most effective strategies for parents of pre-K and elementary school children is to create a common "social language" that becomes part of your family culture. This language contains familiar, understandable ways to communicate with family members, including how to listen, show gratitude, and apologize. Learn  how to develop a toolbox of words and actions that you can instantly put to use with your younger children.
3. Manage your anger.
Anger is one of the greatest blocks to forming meaningful relationships with children. When adults act impulsively, yell at one another, or seek revenge, children follow suit. In fact, anger can steer your child toward bullying others, acting-out in school, and developing poor self-regulation—the ability to stop or delay an action rather than behaving impulsively. Learn more about positive parenting and how to be your child's best teacher and role model.
4. Create family social norms.
Sociability is increased when families learn to cooperate with and learn from each other. Research shows that children learn to cooperate not through forced rules and compliance, but by giving them a voice in creating their futures. As a result of their involvement, children come to value cooperation because this behavior rewards them with positive relationships. A great tool for parents is the family meeting, developed through the work of Dr. Jane Nelsen, founder of Positive Discipline.
5. Supervise family screen time.
Technology and social networking provide many benefits to families, schools, and societies. But the benefits also come at a cost to the development of positive human relationships. One of the most popular articles on this website lists 10 disadvantages of social networking, according to teenagers. Read it and listen to the wisdom of our children! Then learn how you can make six small changes in screen time that can reap big benefits for your family.
6. Facilitate sibling rivalry.
If you have more than one child, fostering sociability can be much more complex. Without parental intervention, most disputes result in less powerful children submitting to the will of the most powerful—an unhealthy outcome for all. Learn about the latest research and how you can help each of your children feel seen, heard, and understood by their siblings. When children learn to express their feelings and thoughts with siblings, they apply that learning with peers and other relationships in their lives.
7. Evaluate after-school programs.
Children participate in a variety of after-school and sports-related programs from childhood through adolescence. These activities have a big impact on how children develop positive relationships. Since parents play a role in the selection of after-school activities, it's important to evaluate those programs—not just on what skills they teach—but on the emotional climate for social learning. Learn how sports coaches contribute to positive youth development and three traits to look for in a good coach. The teen years are particularly important for developing social skills, leadership skills, and a greater awareness of self. Learn how to help your teen evaluate programs that can be transformative for their growth.
8. Employ positive discipline strategies.
One of the most popular disciplinary practices these days is the "time-out." The problem with time-out is that it distances your child from his or her greatest need—human connection. For many children, time-out means, "a good relationship with my parent depends on changing my behavior." This is the opposite of unconditional love, the cornerstone of what fosters sociability in children. Learn why time-outs are not a positive disciplinary strategy and how to more caringly address problem behaviors.
9. Engage your children in collaborative learning.
The family is an important environment where children learn to work together toward common goals. The best environment for family learning is one where children: (a) must cooperate with other family members; (b) are held accountable for a shared outcome; (c) help others learn; (d) use their interpersonal and social skills; and (e) reflect on how well their family functions and how it can improve. When children are given opportunities to learn in supportive families, they not only learn better, they develop social and emotional skills that strengthen their relationships and prepare them for successful careers. Occasions for family learning include: planning a vacation or outing, cleaning the house, preparing for a holiday, co-creating a dinner, volunteering in the community, and any other project-based shared family experience.
10. Model a positive relationship with your partner.
Sometimes we are so focused on "getting everything right" for our kids that we overlook what children learn from watching their parents interact with each other. Children learn about intimate relationships from their parents—learning that impacts them for a lifetime. If you and your partner are struggling, learn about the warning signs, and how you can still develop a close, loving relationship with your child.
Sociability Infographic
The following infographic was created from the material in this article. Please feel free to copy, print, and share it with others!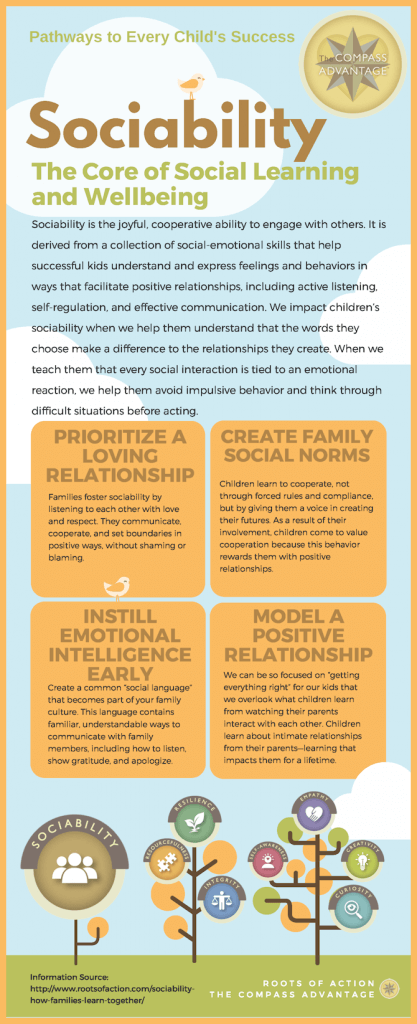 Learn More About Sociability
Check out the following books to learn how to nurture the social and emotional skills your child needs to develop positive relationships throughout life.
How to Talk So Kids Will Listen & Listen So Kids Will Talk, by Adele Faber & Elaine Mazlish
Peaceful Parent, Happy Siblings, by Dr. Laura Markham
How to Raise an Adult, by Julie Lythcott-Haims
The Whole-Brain Child, by Daniel J. Siegel and Tina Payne Bryson
Articles in this Parenting Series
Successful Kids Need 8 Core Abilities: How to Parent With Purpose 
Curiosity: How Parents Foster Lifelong Learning in Children 
Sociability: How Families Learn Together with Love and Respect (Currently Reading)
Resilience: How Families Grow from Adversity 
Self-Awareness: How Parents Foster Meaning and Purpose in Kids 
Integrity: How Families Teach and Live their Values 
Resourcefulness: How Parents Help Children Achieve Goals 
Creativity: How Parents Nurture the Evolution of Children's Ideas 
Empathy: How Families Lead with Gratitude and Kindness 
Free Resources for Parents
My Parenting Promise: a frame-ready document that helps reinforce the compass abilities through parenting practices.
I Have a Dream: a frame-ready document created by youth — to discuss with your children.
Reframing Success: Helping Children & Teens Grow from the Inside Out: an eBook that introduces The Compass Advantage. This eBook has been widely used by schools as a "Book Club" reading to engage parents about raising healthy children and teens.
Image Credit: Cathy Yeulet
Published: October 31, 2016