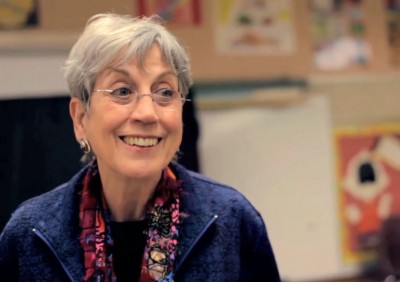 Meet Maria Rosa Reifler, a fifth grade teacher at Wilcox Elementary School in East Los Angeles who gives her students more than core curriculum. 
She teaches them about the value of living a life that matters. I'm struck with how Mrs. Reifler models the concepts of positive youth development in the classroom, helping kids believe in themselves, understand the consequences of the choices they make, and appreciate the value of friendship.
Maria Rosa Reifler instills important ideas, including how money and achieving goals is secondary to the kind of human being you become. She helps kids develop a positive attitude, encouraging them to lift each other up rather than putting others down.
But Mrs. Reifler can't do this on her own.  In fact, she asks, "Where are the parents?" She understands that preparing kids for a fulfilling life takes more than a good teacher, it takes parents, grandparents, aunts, uncles, community leaders, and all adults who care about children.
Learn from a teacher who understands and models how to educate the "whole child."
Watch Maria Rosa Reifler in this inspiring video.
Published: May 4, 2011
Tags:
positive youth development
,
teachers
,
Underserved Youth