When the holidays arrive, so does the season of gift giving. Did you know that your annual traditions shape children's lifelong values about giving?
As we look beyond the external act of giving gifts, the research on child and adolescent development tells us something very important about what happens in children's internal worlds. It's a season that shapes their lifelong identities. What are you doing this year to help children and teens internalize their gift giving experiences?
Of course, children associate the holidays with being receivers of gifts. But according to studies in human development, it is gift giving that reaps the biggest psychological rewards. Parents can help children and teens realize these rewards by teaching them how to give back during the holiday season and throughout the year. There are many ways to give back, including through the excellent projects listed below.
Six Ways to Turn Gift Giving into Family Values
Pledge to Volunteer
To mark the season of giving, from November 29 through December 13, each time a child or teen makes a pledge to volunteer through generationOn, its partners at Hasbro will donate a toy to a child in need. As part of their Holiday Gift Campaign, generationOn encourages kids, parents, teachers and nonprofit organizations to explore its many online resources, including holiday service projects that help kids turn pledges into projects. Also through pledging, children become engaged in a youth community that brings the gift of giving into young people's lives throughout the year. What better time than the holidays to get your kids to take a volunteer pledge!
Sponsor an Impoverished Family
The Family-to-Family project helps American families share their bounties with others who are impoverished. They will link your family with a family struggling to put food on the table. Once a month, they'll ask you to either shop, pack and send a box of groceries to them, or make a donation that allows them to do it for you. The best way is to get kids involved in the shopping, in the process of giving! Encourage children to reflect on what others would want, how they can empathize with families different from their own.
Send a Package to an American Soldier
The nonprofit organization AnySoldier.com invites you and your children to help make the holidays more special for American soldiers stationed in harm's way. You can choose to support any of the Armed Services, decide what you want to send, and get children involved in making cards and selecting gifts. Plan ahead so a solider in Iraq, Afghanistan, or another place of global conflict can receive your family's heartfelt gratitude for the job they do.
Visit a Nursing Home or Hospital
Bring the spirit of the holidays to those who otherwise might not have a celebration. The Holiday Project is a nonprofit organization whose mission is to pass along from generation to generation the responsibility of making a difference in the world by experiencing the difference we make in each other's lives. The project connects volunteers with thousands of people spending Christmas, Chanukah, and other holidays confined to hospitals, nursing homes, and other institutions. Start a project in your community or join one already operating in 13 states.
Serve a Meal to the Homeless
The National Coalition for the Homeless is a national network of people committed to ending homelessness. They work to meet the immediate needs of people who are homeless by providing education, advocacy, and grassroots organizing. Check their directories of national and local organizations where your family can help this holiday or throughout the year.
Donate to a Food Bank
Right now, the programs that put food on the table for America's vulnerable children, seniors, and working families are on the chopping block. Your help is desperately needed to fill food banks and pantries throughout the country. Feeding America, a nonprofit network of member food banks, can help your family find convenient ways to give.
Turn Family Values into Action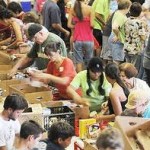 What values does your family hold about gift giving? The holidays are a perfect time to talk about your values and make a plan to put them into action now and in the coming year. We are often so busy during the holidays it's easy to go through the motions of gift gifting without connecting to the deeper meaning of giving. Yet it is these deep connections that shape children's identities, that teach them the gift of giving.
Family projects that involve giving to those in need during the holidays can be turned into powerful lessons that teach compassion, empathy, and meaning to children. By adolescence, young people have the capacity to think and act independently from their parents – to give conscious attention to and become passionate about giving.  Whatever your gift giving family traditions, it is important to revisit how your thinking has changed, and how you might want to adapt your traditions. Make children part of the dialog on family values. Studies show that what youth learn about giving during childhood and adolescence lasts a lifetime.
Photo Credit: Clare Bloomfield
Published: November 21, 2011
Tags:
empathy
,
moral development
,
positive values
,
positive youth development
,
volunteering
,
youth civic engagement