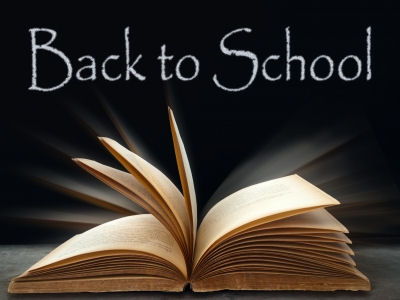 In addition to getting your student ready, back-to-school is also a time when most parents revisit strategies that help support their children during the academic year.
What's your parenting mindset at back-to-school time, or anytime?
As a writer and researcher with a passion for positive youth development, I regularly connect with educators and psychologists who write superb articles for parents.
These authors share the latest thinking and research on learning, achievement, family well-being, parent engagement, special needs children, youth sports, media, technology, discipline, homework, bullying, and much more.
As your children get back-to-school and resettled into their routines, take some time for yourself – to reflect on your own values about education and how you can more intentionally support your children.  I've compiled what I believe are some of the best back-to-school articles for parents – from a variety of reputable bloggers. The list is divided by topic and I've put a short summary of what you will find in each one.
This year, I hope you'll also check out my recently published free eBook Reframing Success: Helping Children & Teens Grow from the Inside Out. It shows how grades and test scores are only one aspect of success and how we can all nurture vital skills and abilities in young people.
Read what piques your interest now and bookmark others for later.  And if you like particular authors, be sure to follow their articles throughout the school year by signing up for their RSS feeds or email subscriptions.  If you use social media, I've included links to their Twitter accounts and Facebook Pages to make following easy.
I guarantee you'll find some meaningful food for thought here – whether it's back-to-school time or anytime! The list is updated annually each summer. You'll meet some great people who support children's positive growth and well-being. Happy reading!
Learning & Achievement

1. Why Parents Need to Let Their Children Fail by Jessica Lahey at The Atlantic. Overprotective parents don't help children take responsibility for their learning! This viral post is a must-read! Twitter
2. Parents & Teachers: 6 Ways to Inspire the Teen Brain by Sandra Bond Chapman PhD., at Psychology Today. Get tips to stimulate the teen brain from findings in neuroscience. Twitter
3. Teaching Beyond The Transmission of Knowledge by Miguel Angel Escotet, Ph.D.  Parents are teachers too! Understand the educational philosophy of teaching to the test vs. teaching to the heart. Twitter
4. The Developmental Psychologists' Back-to-School Shopping List by Gabrielle Principe, Ph.D. at Psychology Today. Five ways to improve children's learning at all ages, grounded in scientific research.
5. Kindergarten Academics: What To Expect by Patti Ghezzi at SchoolFamily. Learn how kindergarten has changed and how new academic standards will affect your child. Twitter; Facebook Page
6. A Link Between Relatedness and Academic Achievement by Ugo Uche, LPC, at Psychology Today. The key to student success relies not just with teacher's attitudes toward students but also with the student's attitude towards the teacher. Parents help develop these attitudes! Twitter
7. Happiness in the Classroom by Jessica Lahey.  A middle-school teacher's tips for classroom happiness apply beautifully to parents too! Pass this one onto your child's teacher! Twitter
8. Seven Ways to Encourage Reluctant Readers by Steve Reifman, M.Ed.  A teacher's strategies can turn your child from a reluctant to a willing reader. Try them out! Twitter; Facebook Page
9. Boys and Girls Learn Differently by Patti Ghezzi at SchoolFamily. Get insights on how to help your son or daughter at home and in the classroom. Twitter; Facebook Page
10. The Success Myth by Heidi Grant Halvorson, Ph.D., at Psychology Today. Rethink your ideas of what makes us succeed. Then apply them to your parenting. Twitter
Family Well-Being

11. It Isn't Easy Being a Parent by the Search Institute. Nine strategies every parent should know based on fostering developmental assets in children. Twitter; Facebook Page
12. The Happy Teen: A Primer on the Positives in Youth Development by Stephen Gray Wallace, M.S.Ed. at Psychology Today. Read some good news about adolescent development.
13 Beginning Family Meetings by Jody McVittie, M.D. at SoundDiscipline. Great two-part guide for scheduling regular family meetings. Twitter; Facebook Page
14. Resisting Raising Children Who Feel Entitled by Jan Faull, M.Ed. at ParentNet Unplugged. How NOT to indulge your child's every want. Twitter; Facebook Page
15. Four Tips for Having a Happier Family, by Joe Wilner at PsychCentral. How to deepen family bonds. Twitter; Facebook Page
16. The Seven Best Gratitude Quotes by Melanie A. Greenberg, Ph.D., at Psychology Today. How to bring gratitude into your family's life. Twitter; Facebook Page
17. Are Parents Setting Kids Up for Failure by Pushing Too Hard for Success? By Lylah M. Alphonse at Yahoo Shine. Tips from Madeline Levine's new book, "Teach Your Children Well: Parenting for Authentic Success." Twitter; Facebook Page
18. Five Lessons Our Kids Don't Learn in School For Success in Life by Jennifer Owens at HuffPost Parents. Parents play a big role in teaching children how to succeed in life! Learn how. Twitter
19. Six Ways to Let Your Child's Genius Out by Marjie Knudsen at The Oregonian. Learn how to support your child's learning – for a lifetime! Twitter
20. Healthy Parenting after the Marriage Ends by Kevin D. Arnold, Ph.D., at Psychology Today.  How to support your children's social, emotional and intellectual health after divorce. Twitter
21. How to Teach Your Kids it's OK to Have Less than their Friends by Jacoba Urist at TODAY Moms. As  economic disparity grows, children need to understand their family's values more than ever. Twitter
Parent-Readiness and Engagement

22. Parent Involvement: The Missing Key to Student Achievement by James Norwood, Ph.D. at Teaching in the Middle. Learn why developing a partnership with school is one of the most important things you can do to help your child. Twitter
23. 9 Tips for Parents if Your Child is Changing Schools by Meryl Ain, Ed.D. at Your Education Doctor. Must-read tips for parents to help children get comfortable in a new school.  Twitter; Facebook Page
24. Twenty-Five Education Blogs Perfect for Parents (And Just About Anyone Else) by Jeff Dunn at Edudemic. Excellent blogs to follow to keep abreast of what's going on in education. Twitter Facebook Page
25. Two Questions Heard Around the World by Steve Constantino, Ed.D., at ParentNet Unplugged. When your children come home from school, replace the most common two questions asked by parents with a few well-placed statements! Twitter
26. Developing Belief Systems About Education: It Takes a Village by Nicole Rivera, Ed.D., at Psychology Today.  Children develop beliefs about education through what their parents believe.
27.  Top 10 Pinterest Boards for Parents by Cathy James at the NurtureStore. If you are looking for educational projects to do with preschool and elementary school-age children at home, Pinterest is the place to be! Twitter; Facebook Page
Back-to-School Anxiety

28.  Back-To-School Worries by Eileen Kennedy-Moore, Ph.D., at Psychology Today.  How to help children cope with starting a new school year. Twitter; Facebook Page
29. Ease Back-to-School Stress by Christine McLaughlin at SchoolFamily. How to help your child switch from laid-back fun of summer to homework and routine. Twitter; Facebook Page
Children with Special Needs, Abilities & Personalities
30. Ten Tips for Parenting an Introverted Child by Susan Cain at The Power of Introverts. Learn how introverted children are special and how to cultivate their passions. Twitter; Facebook Page
31. Five Strategies for Smooth Operating for the New School Year by Cindy Goldrich, Ed.M. at PTSCoaching. Good advice on getting organized, managing time, and using low-tech strategies to support children with ADHD. Twitter; Facebook Page
32  Five Ways to Help Your Child Transition Back to School by Chynna Laird at Special-lsm. Mom with child with Sensory Processing Disorder (SPD) talks about creating a transition plan for supporting special needs children. Twitter; Facebook Page
33. The Need to Believe in the Ability of Disability by Scott Barry Kaufman, Ph.D. and Kevin McGrew at HuffPost Education. How our beliefs help or hinder children with disabilities. Twitter
34. The 200 Best Special Education Apps by Eric Sailers at Edudemic. Great apps for teachers and parents who work with special needs children. Twitter
35. From Perfection to Personal Bests: 7 Ways to Nurture Your Gifted Child by Signe Whitson at HuffPost Parents. How to develop a growth mindset in your high-ability child. Twitter; Facebook Page
Homework

36.  Reducing Homework Stress by Lori Lite at Stress Free Kids. Ten tips to help parents, teens, and children with the daily homework routine. Twitter; Facebook Page
37. Who Takes Responsibility for Homework? What is the Parent's Role? By Rick Ackerly at The Genius in Children. Helping kids understand the consequences and rewards of homework. Twitter; Facebook Page
38. Keep Your Middle Schooler Organized by Nancy Darling, Ph.D., at Psychology Today. How to help kids develop organizational skills and relieve the homework struggle. Twitter
Youth Sports

39.  Soccer, Baseball or Karate? Top 10 Reasons to Involve Your Kids in Sports by Signe Whitson at Psychology Today. Reasons why being a sports chauffer can pay big rewards. Twitter; Facebook Page
40.  Emphasize the Internal Rewards by Jeffrey Rhoads at Inside Youth Sports. How to help your child experience the internal rewards of playing sports. Twitter; Facebook Page
41.  How to Help Kids Be "Winning" Losers in Youth Sports by Patrick Cohn, Ph.D., at The Ultimate Sports Parent Blog. Learn how losing in sports develops internal skills perseverance, determination, and the ability to adapt to adversity. Twitter; Facebook Page
42. Heads Up Concussion In Youth Sports by Shannon Henrici at Stress Free Kids. Learn about concussions and what you can do as a parent. Twitter; Facebook Page
Bullying

43. Mean Girls: Why Teenage Girls Can Be So Cruel by Chris Hudson at Understanding Teenagers. Learn how gender influences adolescent behavior in friendship groups and why girls have a natural tendency toward social aggression. Twitter; Facebook Page
44.  Bully Proof Your Child by Lori Lite at Stress Free Kids. What parents can do to protect children from bullying. Twitter; Facebook Page
45.  How to Protect Kids from Cyber-Bullying by Michele Borba, Ed.D. How to keep an electronic leash on your child! Twitter
46.  Bullying Runs Deep: Breaking the Code of Silence that Protects Bullies by Michelle Baker at HuffPost Education. A poignant and personal story with deep insights for parents. Twitter
Media & Technology

47. Parenting: Who is More Powerful: Technology or Parents? By Jim Jaylor, Ph.D., at Psychology Today. How are you flexing your parenting muscles against the strength of today's media? Twitter; Facebook Page
48. How Much Television is Too Much? Science Weights In by Todd B. Kashdan, Ph.D., at Psychology Today. Science vs. common-sense parenting. Twitter
49. Will Watching Violent Video Games Affect Your Teen's Behavior? By Dennis E. Coates, Ph.D., at How to Raise a Teenager. Get both sides of the story about violent video games. Twitter
50. The Dangers of Teen Sexting by Raychelle Cassada Lohmann, M.S., L.P.C., at Psychology Today. Learn about sexting and how to protect your teen. Twitter; Facebook Page
Discipline

51. Is It Ever Okay to Spank a Child? by Andrea Nair at The Atlantic. Spanking is always a controversial subject. What's your opinion? Twitter
52. What is in Your Discipline Toolbox? By Jody McVittie, M.D., at ParentNet Unplugged. How to use kindness and firmness when disciplining children. Twitter; Facebook Page
53.  Why Punishment Does Not Make Good Neurological Sense by Meredith White-McMahon, Ed.D., at Development in the Digital Age.  How punishment differs from discipline. Twitter
54. Connection before Correction by Jane Nelsen, Ed.D., at Positive Discipline. How positive discipline creates respectful connections with children. Twitter; Facebook Page
55. The 5 C's of Effective Discipline: Setting Rules for Children by Ben Martin, Psy.D. at PsychCentral. Important and simple discipline rules to remember.
Image Credits:

Nuttikit
back-to-school
,
bullying
,
character strengths
,
critical thinking
,
cyberbullying
,
discipline
,
education
,
empathy
,
Family-School Partnerships
,
gratitude
,
happiness
,
homework
,
internal rewards
,
learning
,
media
,
mentoring
,
moral development
,
neuroscience
,
parent engagement
,
parent involvement
,
parenting
,
positive values
,
positive youth development
,
praise
,
Sports
,
stress
,
teachers
,
technology