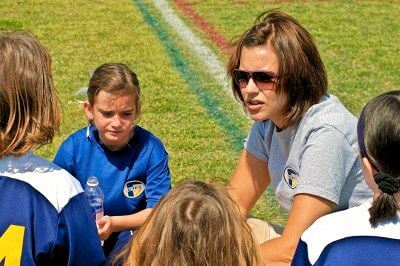 Coaches and community leaders educate by example.
You might know a baseball coach who motivates kids to succeed off the field as well as during games.  Or a pastor or rabbi who listens intently without judgment when kids struggle to figure out who they are.
These people are gifts in kids' lives – and an integral part of how young people develop strengths of character. What makes them special and what do they do to make a difference?
How do community leaders–coaches, program leaders, clergy, mentors–instill character strengths in children and teens?
In Tomorrow's Change Makers, Reclaiming the Power of Citizenship for a New Generation, young people from 22 states shared how adults outside their families positively influenced their lives. They said the behaviors most likely to build character came from adults who:
Supported and encouraged
Listened
Set high expectations
Showed interest in them as individuals, separate from academics, sports, or civic activities
Fostered self-decision making
Provided another perspective during problem-solving
In Their Own Words
The young people in my study reflected on their childhoods and adolescent  years.  As they described the adults who helped them become confident, caring, and compassionate young people,  they talked about coaches, clergy members, camp counselors, after-school program leaders, dance teachers, and others who took a special interest in who they were as individuals. They cared about character!
Here are a few of their remarks.  They give us a flavor of the kinds of adults who help build character in youth — and make a lasting difference in their lives.
"Getting support from somebody who isn't your parents is very touching….She had no obligation to listen to me, and yet she still did.  It gives you kind of a strength in a way that your parents… really can't give you."  – Melinda, age 18
"He encouraged me to keep writing, to channel my emotions into some form of media, rather than keeping them bottled inside of me and being upset about things." – Ryan, age 19
"She was a very approachable person and…a very good friend of mine.  And I still keep in contact. …She would always give me that encouragement and that influence that things will always be better….She made me realize that if you really try hard…you can always go after what you dream." – Rasheeda, age 21
"He was always there to help when I needed him.  It wasn't him telling me what I should do…he was just there to keep me going which I thought was very important because I knew that I could pull stuff together.  It's just nice having someone there all the time to let you know." – Byron, age 18
"I would talk to her about what I wanted versus like maybe what my parents wanted….our discussions centered around independence and what it meant to be an independent person and not rely on other people for validation." – Jared, age 20
We can learn a lot from young people when we listen to them intently. And in doing so, they gain a belief in themselves that no amount of money can buy. Studies show that kids who have mentors in their communities during adolescence benefit greatly.  These mentors help build character strengths and are integral to kids' development.
Photo Credits: Susan Leggett
Published: May 18, 2011
Tags:
character strengths
,
mentoring
,
positive youth development