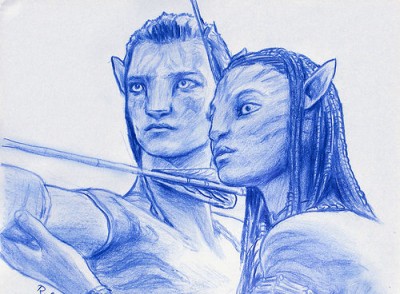 For thousands of years, heroic stories have been used to inspire, motivate, and transfer cultural values to children. The stories have a common pattern.
They begin with a likeable hero who encounters a challenge or roadblock in life. And then, with the help of others, the hero emerges from the difficult situation transformed by his or her experiences.
Heroic stories are found everywhere in modern media.

Beautiful Snow White is protected from the wicked queen by the seven dwarfs. Her life is threatened when the queen, disguised as a peddler, finds Snow White and poisons her with an apple. Rescued by the Prince, she is transformed by true love.
In Avatar, Jake Sully is a paralyzed ex-Marine who has an opportunity to walk again through a proxy Na'vi body in the world of Pandora. But he encounters an unexpected challenge. He falls in love with a Na'vi woman, Neytin, and is forced to choose sides in an epic battle between the humans and the Na'vi people. With the help of many, Jake's leadership prevails and the humans are defeated. Jake is permanently transformed in a Na'vi body where he lives the rest of his life with Neytin.
We Are Heroes for Children
Years ago, I had the privilege of studying with Joseph Campbell, renowned mythologist and author of The Hero with a Thousand Faces. He believed people created heroes and myths out of their own human experiences. Why? To constantly remind us that anything is possible! When we face difficult life challenges, we draw on heroic stories for inspiration and to help us persevere through obstacles.
Heroes show us a way to overcome life challenges through the use of a variety of character strengths and virtues. Their stories also show us that we cannot accomplish great things unless we open ourselves to being helped by others.
Too often, children, teenagers, and adults view heroes as myths or legends rather than the representation of mere humans who succeeded in breaking barriers that previously limited them. Campbell saw this as a deep problem with modern-day individuals who failed to see the value of heroic stories in their own lives.
For parents and teachers, these stories can be tools to teach young people how to face and overcome challenges in the real world. But to take these modern-day films beyond entertainment, adults need to have conversations with youth that delve more deeply into meaning.
When watching movies with children, parents can engage in family conversations about heroes. What strengths and virtues did the hero exhibit? What challenges and obstacles did they overcome? Who were their helpers? How was the hero transformed? What strengths of character does your child share with the hero?
Classroom teachers can use heroic stories to instill character strengths and values in children. In addition to movies, books contain heroes of all kinds. Historical figures are heroes too. Use them to inspire and to illustrate the human journey of struggle and reward.
In addition to heroes themselves, the heroes' helpers are vital to the journey of transformation. These people can be compared to modern-day role models. Children and teens need role models to help them in their own journey. They are the people who inspire others, live their values, give freely of their time, and show us how to overcome obstacles!
Podcast on Heroes & Role Models

I recently had the pleasure of being Dr. Charles Sophy's guest on his weekly radio podcast, entitled "Heroes & Role Models." Dr. Sophy is a well-known psychiatrist and Medical Director of the County of Los Angeles Department of Children and Family Services and has appeared on the Today Show, Good Morning America, Dr. Phil, Rachael Ray, and many more. We had a great discussion! Hope you'll listen!
Listen to the Podcast – [35 minutes] When you click on this link, the podcast will download to your computer. You can then open it with your audio player, including iTunes.
Photo Credits: Rufus Gefangenen; Dr. Sophy
Published: May 7, 2012
Tags:
character strengths
,
initiative
,
learning
,
mentoring
,
moral development
,
parenting
,
positive values
,
positive youth development
,
problem solving
,
role models
,
teachers