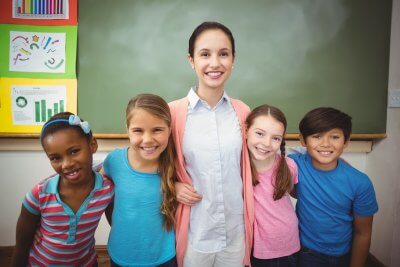 Good teachers understand that character education is at least half their jobs. 
While teachers are hired to develop children's skills and abilities in academics like reading, writing, history, geography, and math, there is a lot more going on in the classroom than meets the eye.
Opportunities abound for students to develop hope, fairness, humor, valor, appreciation, and many other personal strengths that lead to fulfilling lives. For many teachers, this is a natural extension of the job they do on behalf of children.
Building character strengths is the mutual responsibility of families, schools, and communities. This article describes the vital role of teachers in developing character and how character education is showing up in creative ways through a variety of classroom activities.
Dr. Neal Mayerson, Chairman of the VIA Institute of Character, points out that teachers choose the type of culture to create in their classrooms. He claims that cultures of collaboration, confidence, mutual respect, and engagement help nurture the development of character.
Dr. Andrew Sokatch, Senior Program Officer with the Bill & Melinda Gates Foundation and leader in the field of character education says that "a growing body of evidence suggests that schools can be powerful places, and teachers powerful agents, by which these strengths are developed." In fact, Sokatch gave a powerful TEDx talk on character education where he says that "Science is suggesting to us that we are missing half of what kids need to become fully engaged, successful, flourishing adults." He believes schools need to teach content knowledge and character.
Watch Dr. Sokatch's 13-minute talk to learn what character education means and how all schools can learn to do this work better.
One Teacher with Character Education as a Mission
In a compelling video created by the VIA Institute, Jay Sharp, fourth grade teacher at Bella Vista Elementary School in Salt Lake City shares how character education is the foundation to his core curriculum. By teaching the vocabulary of character, children can explore their meaning and relate their own strengths to the tasks they undertake.
Jay Sharp has four goals for his students.  He wants them:
To be more content and happy with where they are right now.
To be open minded about others' perspectives.
To feel what it's like to overcome a fear and incorporate that feeling into their lives.
To have fun – and feel the lightness that learning brings to life.
With the slogan "Learn it. Do it. Teach it. Know it," older students mentor younger ones about strengths of character. As they do, learning is internalized for the older students.  They gain confidence and benefit in many other ways.
As a developmental psychologist and advocate for positive youth development, I'd like to clone Mr. Sharp in classrooms around the country!
Please watch and learn from a teacher who understands character education.
Make Character Education Part of Your Classroom Curriculum
I'm delighted to share a new resource for schools who view positive relationships as the cornerstone of education and healthy youth development. The Positivity Project works with K-12 schools, providing resources and strategies to teach positive psychology's 24 character strengths in the classroom.
References
Sokatch, Andrew. (2017). Toward a Research Agenda: Building Character Strengths in School Settings. Journal of Youth and Adolescence. 46. 10.1007/s10964-017-0657-9.
[This article was originally published May 13, 2011. It was updated with new information and research Feb 1, 2019.]
Published: February 1, 2019
Tags:
character strengths
,
classroom practices
,
teachers