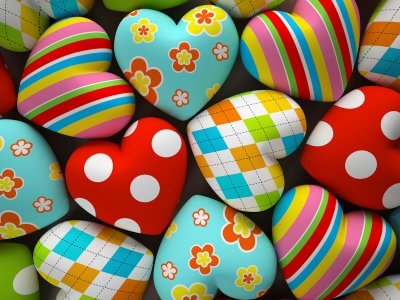 Learning how to teach empathy begins with the nurturing relationships we enjoy with children.
Empathy is our ability to recognize, feel, and respond to the needs and suffering of other people. It is the north point of the Compass Advantage, symbolizing the powerful outward impact that empathy has in our social world.
Teaching empathy is not a simple, one-way process. To develop the capacity to feel empathy for others, children must feel heard, seen, and understood by primary caregivers. Parents and teachers who know, appreciate, and respect a child regardless of external accomplishments help that child feel emotionally secure and open to understanding other's emotions.
Children and teens learn about other people's feelings as parents, teachers, and other caregivers share emotions with them in ways they understand. As children grow, not only do they gain the ability to take others' perspectives and feel what others' feel, they also acquire the capacity to respond to others with compassion.
In the book, UnSelfie: Why Empathetic Kids Succeed in Our All-About-Me World, Dr. Michele Borba cites more than 350 studies that show the vital role empathy plays in kids' healthy development. Since 2013, Harvard University's Making Caring Common Project has used the latest research to help parents understand the urgent need to make caring a family priority. Like our physical muscles, the more kids practice empathy, the stronger their empathy muscles become.
For over a decade, my research has shown that empathy is intricately connected to the development of other core human abilities—curiosity, sociability, resilience, self-awareness, integrity, resourcefulness, and creativity. When empathy muscles activate, kids become more curious about the world around them, joining with others to improve lives. This action ignites broad developmental growth.
The classroom for how to teach empathy to children doesn't include rote memorization or mere explanations. Empathy grows through relational experiences. What does this mean? How can you make empathy a priority at home and in the classroom?
A Simple Framework for Teaching Empathy
During the past few years, I have had the privilege to work with Design for Change USA, a nonprofit with a powerful framework that shows teachers and parents how to teach empathy in ways a child's brain is designed to learn—through relational experiences.
Simply put, relational experiences involve deep emotional connections and involve multiple ways of interacting. Often, relational experiences are life-changing, touching us in ways we remember for many years to come.
Conversely, transactional experiences achieve short-term results and require little emotion. While both types of experiences are part of teaching and learning, empathy can only be taught through the practice and power of relational experiences.
The Design for Change framework was first developed and launched in India by award-winning educator Kiran Bir Sethi. Partnering with experts from the Stanford Design School and IDEO, she launched a movement that helped change how we teach empathy to children. Using the FIDS framework (FEEL, IMAGINE, DO, SHARE), more than 2 million young people in 65 countries are not only practicing empathy, but turning empathy into action.
From Empathy Warmups, to Design Sprints, to full Community Action projects, the FIDS framework is used in American classrooms and after-school-programs with teacher flexibility. Yet, the model is so simple, parents can use it at home to help children experience empathy and spark creative acts of kindness.
How can you use the FEEL, IMAGINE, DO, SHARE process at home? In times of crisis—when a friend is struggling, a family member is ill, or a neighbor needs help, parents can engage kids with the FIDS framework to make a difference.
The #DoGoodFromHome Challenge
During the COVID-19 crisis, Design for Change USA launched The #DoGoodFromHome Challenge. It's a model for how kids can experience a simplified version of FIDS right from home. Whether responding to COVID or to other needs in a child's family or community, kids can make a difference.
These four simple steps, part of all Design for Change projects, looks like this: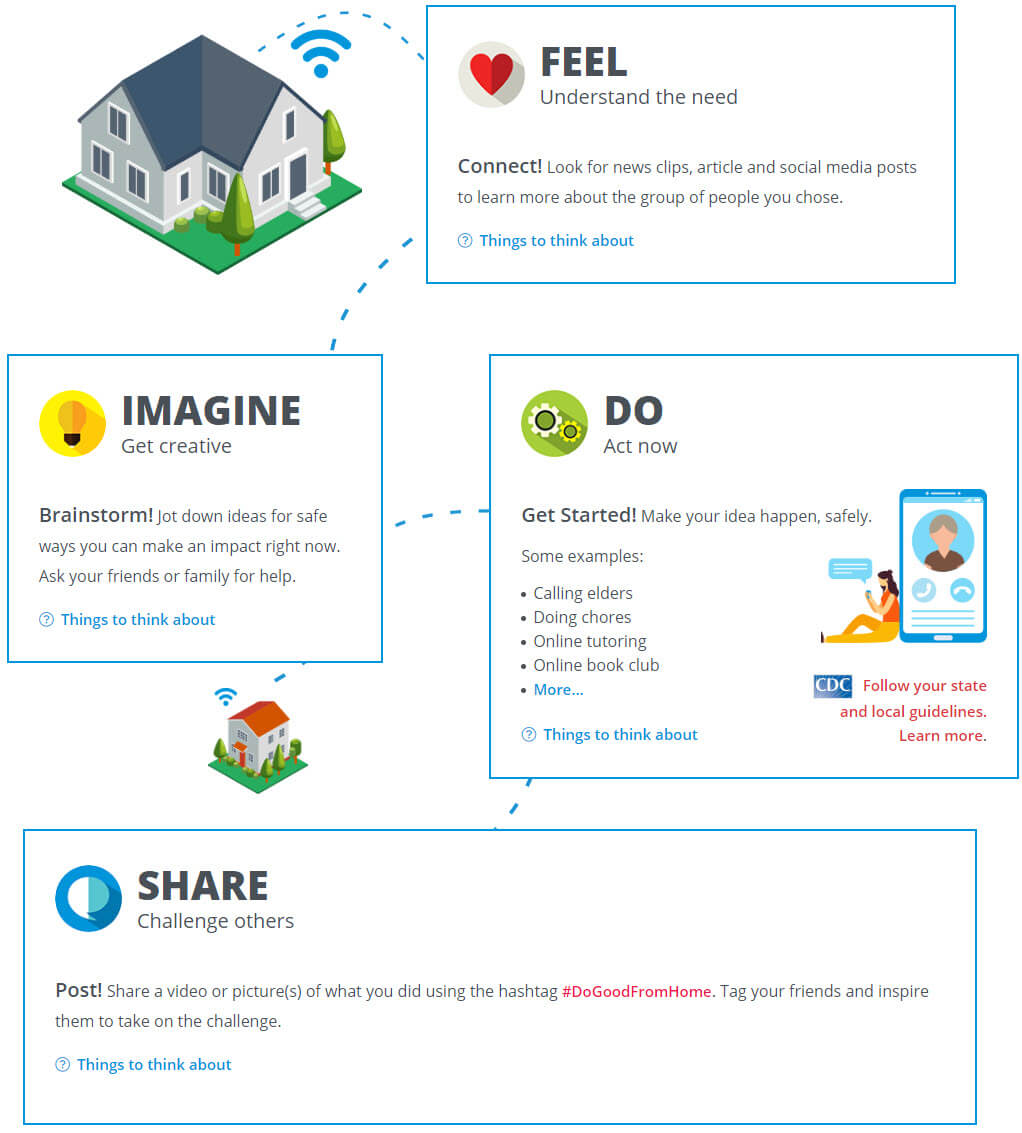 How to Teach Empathy in Four Easy Steps
The Design for Change framework was created for teams of students that work together on school or community projects. But parents can easily use the simplified framework above to teach empathy at home. When you help children move through the four steps of FEEL, IMAGINE, DO, SHARE you help them cultivate core inner strengths.
FEEL
In the FIDS process, empathy (FEEL) comes first. Sharing how you feel (modeling) and inviting kids to share how they feel is a critical part of healthy parent-child relationships. Practicing empathy in this way is how family members learn to understand each other. Family meetings can provide a great opportunity to share feelings and check-in about people who may need help.
In The #DoGoodFromHome Challenge, the "feeling" stage involves understanding others' needs. In the COVID-19 crisis, your child's relational connection to elderly grandparents might motivate your child to feel deeply for elderly neighbors. Whatever the situation, children will feel empathy for others based on their own relational experiences in life. When parents initiate conversations that help children better understand other's needs, they help kids put themselves into other people's shoes.

IMAGINE
The process of imagining gives kids a voice and sparks their creativity. It says to them, "Your feelings and ideas are important. You have the power to help." While you may have many ideas about how your kids can or should help others, this step is not about your creativity. It is about your son's ability to imagine how he is moved to help. It is about your daughter's ability to respond to the suffering of others without being told how. When your child has brainstormed ideas and decided how he/she most wants to respond, ask how you and other family members can assist. Let your child take the lead!
DO
The third step involves action. Perhaps your daughter decided to write notes to elderly people in nursing homes during the COVID-19 crisis. Maybe your son offered to cut a neighbor's lawn when that neighbor broke his leg. The situations and ideas are endless. When kids take action motivated by their own feelings and imagination, they experience the power of resourcefulness.
SHARE
The last step is to share with others. Why? At first glance, you might ask, "Isn't it enough to 'do' caring acts without the need for external recognition?" Indeed, that is the goal. With lots of relational and empathetic practice, children grow to be caring adults. Caring becomes part of who they are on the inside, regardless of outward rewards.
The Design for Change framework asks kids to share their work for several important reasons. First, sharing stories generates awareness and inspires other kids to learn. For example, The #DoGoodFromHome Challenge was shared on social media to inspire other children to do simple acts of kindness during a globally challenging time.
Lastly, the most important reason to share is to reflect on learning. To share with others, even with one's own family, a child must be able to tell a story—the story of "how I felt, what I imagined I could do, and what I did." To tell a story, your child must reflect on the process. This improves self-awareness and helps children link their initial feelings of empathy with how they responded. These kinds of stories generate learning and give children a process they can draw upon throughout life.
The FIDS framework is based on design thinking, a human-centered, innovative process used to address a vast range of challenges, from product design to solving societal problems. This way of thinking has helped educators learn how to teach empathy to children around the world by becoming problem-solvers and innovators. Students become the designers of change and the changemakers. They learn how to transform empathy into action.
How to teach empathy? This brilliant four-step framework from Design for Change is easy to remember as you make caring a priority in your home or classroom!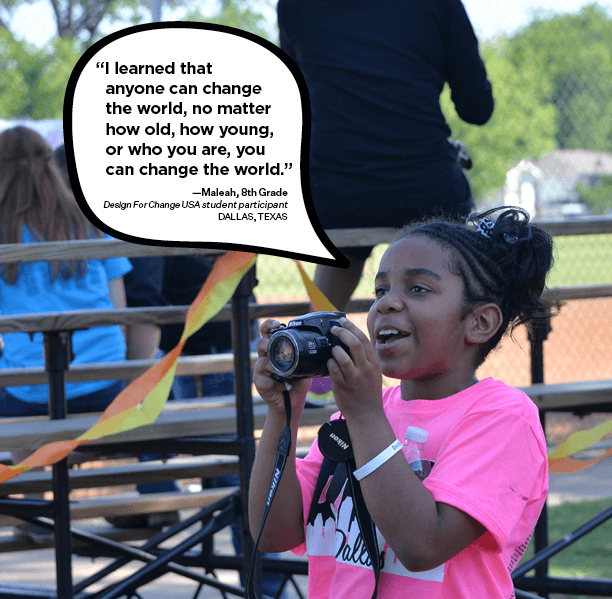 Additional Resources
Learn about Design for Change USA programs.
Learn about Design for Change world partnerships.
Take a survey to learn how often you and your children use your empathy muscles and other core human abilities!
Related Articles You May Enjoy
(Design for Change images used with permission from Design for Change USA)
Published: March 31, 2020