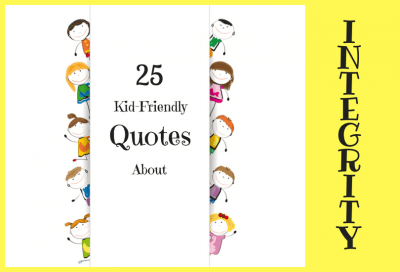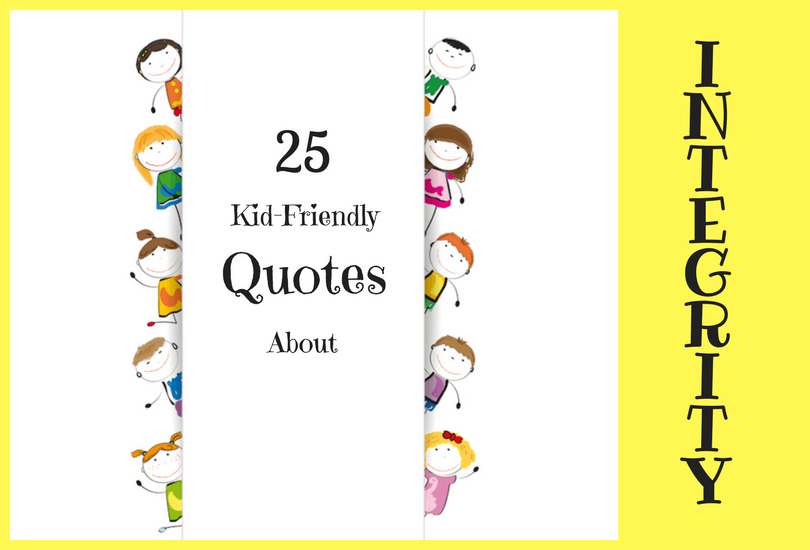 Integrity quotes help children recognize that standing for what they believe is important for achieving a meaningful life.
Integrity is the ability to act in ways that are consistent with the values, beliefs, and moral principles we claim to hold. It's about doing the right thing, even when no one is watching; and about courage, honesty, and respect in one's daily interactions.
Parents and teachers help shape integrity by treating young people with respect and dignity and listening to their feelings and concerns without judgment. When adults praise youth for demonstrating their values, beliefs, and principles through actions, young people are reminded of their value as ethical human beings, beyond external achievements like grades or test scores.
Quotes about integrity that focus on believing in your own voice, doing what is right, and overcoming the fear of standing for what you believe can help children see moral behavior from new perspectives. Wise people from throughout history have talked about the importance of integrity, from Mahatma Gandhi to Malala Yousafzai. Research shows that integrity is one of eight core abilities that drive successful kids.
When parents and teachers use integrity quotes to engage children in conversations about the big and small moral issues of our times, kids better understand themselves and others. They develop their own values and beliefs. Children see how courage, honesty, and respect are part of integrity and how these internal strengths enrich their lives.
This article is the sixth of a nine-part series on how adults can promote learning and development using inspiring quotes for kids. You may wish to read the introductory article to learn how the collection of 200 quotes are related to The Compass Advantage, a framework for positive youth development.
The following quotes about integrity are short, simple, and memorable. Children from elementary through high school will find meaning in these quotes appropriate to their level of development and understanding.
25 Kid-Friendly Integrity Quotes

Pride is concerned with WHO is right. Humility is concerned with WHAT is right.
Ezra Taft Benson
Integrity is choosing courage over comfort; choosing what is right over what is fun, fast, or easy; and choosing to practice our values rather than simply professing them.
Brené Brown
I have found that being honest is the best technique I can use. Right up front, tell people what you're trying to accomplish and what you're willing to sacrifice to accomplish it.
Lee Iacocca
You have the right to be involved. You have something important to contribute, and you have to take the risk to contribute it.
Mae Jemison
When the whole world is silent, even one voice becomes powerful.
Malala Yousafzai
Courage is not the absence of fear. Courage is the recognition that some things are more important than fear.
Irshad Manji
I believe that every right implies a responsibility; every opportunity, an obligation; every possession, a duty.
John D. Rockefeller Jr.
Ethics, decency and morality are the real soldiers.
Kiran Bedi
Character is the foundation stone upon which one must build to win respect. Just as no worthy building can be erected on a weak foundation, so no lasting reputation worthy of respect can be built on a weak character.
R. C. Samsel
You must be the change you wish to see in the world.
Mahatma Gandhi
Knowing what must be done does away with fear.
Rosa Parks
Justice is truth in action.
Joseph Joubert
Integrity has no need of rules.
Albert Camus
If you just set out to be liked, you would be prepared to compromise on anything at any time, and you would achieve nothing.
Margaret Thatcher
Integrity is what we do, what we say, and what we say we do.
Don Galer
Don't compromise yourself. It's all you've got.
Janis Joplin
Rather fail with honor than succeed by fraud.
Sophocles
Real integrity stays in place whether the test is adversity or prosperity.
Charles Swindoll
Don't worry so much about your self-esteem. Worry more about your character. Integrity is its own reward.
Laura Schlessinger
It is better to deserve honors and not have them than to have them and not deserve them.
Mark Twain
You can imprison a man, but not an idea. You can exile a man, but not an idea. You can kill a man, but not an idea.
Benazir Bhutto
Integrity is telling myself the truth. And honesty is telling the truth to other people.
Spencer Johnson
Subtlety may deceive you; integrity never will.
Oliver Cromwell
Integrity: A name is the blueprint of the thing we call character. You ask, What's in a name? I answer, just about everything you do.
Morris Mandel
Integrity is not a conditional word. It doesn't blow in the wind or change with the weather. It is your inner image of yourself, and if you look in there and see a man who won't cheat, then you know he never will.
John D. MacDonald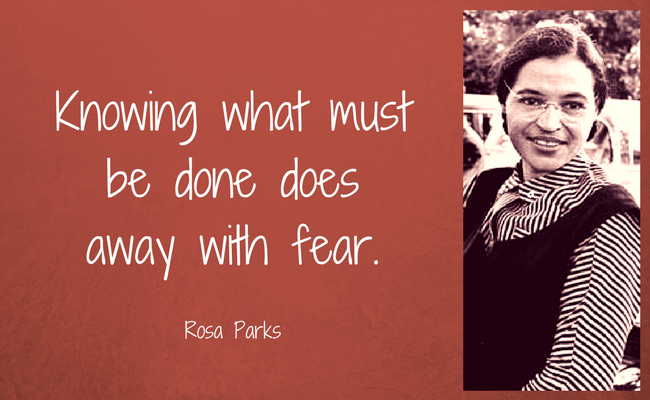 Integrity Quotes: Discussion Starters
The following discussion starters are just a few of many that can be used by parents, teachers, and after-school program leaders to engage children with quotes about integrity.
How would you define integrity?
What are your favorite integrity quotes from the list? Why?
Describe a person you know or have learned about who has integrity. What do you most admire about that person? Why?
How does integrity affect the quality of our lives?
Can a person live a life of integrity at all times? Is it ever okay to be dishonest? When or why?
What skills do to you possess that help you live with integrity? (courage, honor, honesty, respect for others, responsibility, restraint) What skills would you like to improve?
How do people learn to develop integrity?
Integrity in Action
In what ways could your integrity positively help other people?
What problems in the world, such as those related to immigration or human rights would integrity help contribute to solutions?
Additional Activities and the Wisdom Archive
There are many fun activities using quotes that can become learning opportunities for children. One activity is to have children develop their own quote that might inspire others. They could choose one of the abilities in the Compass Advantage on which to focus their original quote. Quotes can become artwork to be posted at home or school.
Children can be invited to think about other human values, like humor, tolerance, justice, respect, optimism, etc.  They can search the Wisdom Archive, a wonderful quote search engine, for quotations that speak to them.  A listing can be compiled of quotes with the most meaning, or posters can be created for home or school. Ideas are only limited by children's imagination!
Articles in the "Quotes for Kids" Series
Quotes for Kids That Promote Healthy Development (Series Introduction)
Quotes About Curiosity That Inspire Kids' Life-Long Learning (Curiosity)
Motivational Quotes for Kids That Help Build Positive Relationships (Sociability)
Quotes About Resilience That Foster Children's Determination and Self-Confidence (Resilience)
Self-Awareness Quotes That Help Kids Explore Their Inner Selves (Self-Awareness)
Integrity Quotes That Teach Kids the Importance of Character (Integrity)
Quotes about Goals That Motivate Kids Toward Success (Resourcefulness)
Creativity Quotes That Inspire Kids' Inner Genius (Creativity)
Kindness Quotes That Teach Kids to Care (Empathy)
Published: July 23, 2018