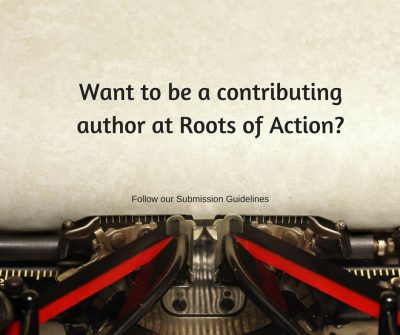 We welcome guest articles and value our contributing authors at Roots of Action.
The majority of our guest articles are by invitation only. We also invite queries from seasoned professionals in the fields of education, child & adolescent development, parent education, psychology, and related health fields that support the positive development of eight core human abilities: curiosity, sociability, resilience, self-awareness, integrity, resourcefulness, creativity, and empathy. Please review The Compass Advantage for more information about these abilities and their related attributes.
While we encourage articles written by authors of books relevant to our audience of parents and educators, we do not accept guest articles from writers or paid marketers hoping to sell toys, children's products, movies, or other materials, or who are solely interested in an advertising opportunity. We are a professional site armed with one goal–to provide evidence-based information to a growing audience of over two million parents, educators, and youth mentors who visit us each year and to the many schools who freely reproduce our articles in their parent newsletters.
We particularly like guest articles that blend human stories with insights drawn from theory and research. You do not always have to cite or link to studies, but it's helpful when you can. We do not pay for articles. Instead, most contributing authors benefit from the recognition of their work and increased traffic to their own websites. Alexa ranks our website in the top .1% of U.S. websites for traffic.
Before you respond to our invitation or send a query, please get a feeling for the articles we publish at Roots of Action and read a few sample guest articles. There is a sample article below for each of the compass abilities as well as one that synthesizes all of the abilities, what we call "compass-inspired!"
If you are sending a query, please use our contact page. Include your article concept, professional credentials, and why you are the person to write on the topic. We will respond by email with an invitation to proceed if we believe your proposed article is a fit with our audience.
If you have received an invitation to submit an article (through a personal email from us), please use the following guidelines when submitting your article.
Guidelines for Guest Articles
In a Word document, provide the following:
The title of your article. Titles should be less than 75 characters, including spaces. (Note that we reserve the right to edit titles to best fit our audience & to optimize for search engines.)
The main content of the article. Article must be ORIGINAL content, not published elsewhere on the internet. [One month after your article is published at Roots of Action, you may republish it elsewhere with a different title.] Recommended length is 900-1100 words. Use subtitles and/or bulleted lists to break the article into readable sections. You may attach photos for which you have copyrights, or links to YouTube videos [optional].  Please review carefully for grammar and spelling before submitting. We do not do extensive editing and will reject those with too many issues.
Full name of author(s). If you have an advanced degree such as M.A., M.D., R.N., M.Ed., Ed.D., or Ph.D., please indicate.
Author(s) Bio: Please provide a short synopsis of your credentials (220 characters w/spaces max). We'll need a JPG head shot of you as well as links to your website, Twitter, Facebook, etc. where people may contact you. Your bio, photo, and contact links will be posted on the site underneath your article. (See sample guest articles.)
Please send your submission and photos as email attachments to the address indicated in our correspondence with you. It may take us several weeks to review, edit, and get back to you regarding publication. We always edit articles for search engine optimization and allow you to review edits before publication.
Thank you again for your interest in Roots of Action,
Marilyn Price-Mitchell PhD, Founder