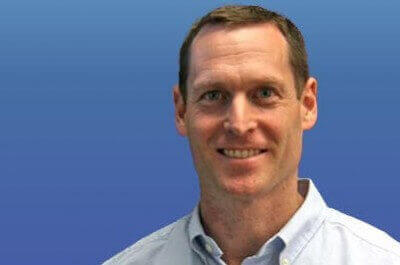 Developing character in children is complex. So much so, we don't often think of easy, everyday actions that make a difference in children's lives.
But teacher Steve Reifman (left) has discovered ways to foster habits of character in children — day by day. Author of a book that should be owned by every teacher and parent, Steve offers insights to those who guide elementary and middle-school-age children.
Steve's book, Changing Kids' Lives One Quote At A Time: 121 Inspirational Sayings To Build Character In Children
provides a simple framework that helps kids talk about meaningful concepts.
What I most like about Reifman's book is that it doesn't teach kids what to think, it teaches them how to think! His approach helps adults become good facilitators — inviting kids into conversations where they discover gems of meaning for themselves. All of this is accomplished through the power of quotes!
Steve Reifman, a National Board Certified elementary school teacher, author, and speaker was kind enough to answer my questions about his book and his approach to teaching kids what he calls "habits of character" in our interview below.


Q.  Steve, you have compiled 121 inspirational quotes to help parents and teachers develop character in children. As a teacher, how did you become a passionate advocate for using these quotes with your students?
A.  Early in my career I found a few quotes that I was excited to share and discuss with my students. My former teaching partner and I even posted a couple on the classroom walls for the entire year. I realized that quotes had the power to inspire and to help me in my efforts to build character in children. I then searched for more quotes, and over the course of a few years I built a nice list of over 100 of them. I liked that the quotes came from a variety of sources. Some came from well-known public figures, some from song lyrics, and some from books I read.
Soon I was incorporating quotes into our morning routine a couple times per week. I found that discussing quotes brought out the best in kids, started our day on a positive note, and offered a natural way to teach and learn valuable character traits. A few years ago I wanted to create a calendar of quotes for teachers and parents to use, and that idea led to the writing of my new book, Changing Kids' Lives One Quote at a Time.
Q.  Can you tell us about the 13 "Habits of Character" these quotes are designed to target and why they are so important?
A.  The 13 Habits of Character comprise an important part of the foundation of my teaching. Taken together, they focus on critical work habits, social skills, attitudes about our work, and moral development. I have always wanted my students to become successful learners, and it is just as important to me that they become great people. I want my students to work extremely hard, work well together, take uncommon pride in their work, and treat others with uncommon respect. My overall goal is to teach the whole child, and that means focusing on character in children as well as academics.
Q.  The family plays such a crucial role in developing character in children. How can parents use these quotes to facilitate meaningful conversations with their kids?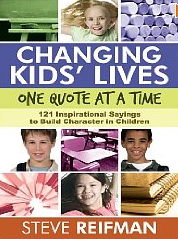 I recommend that parents discuss quotes as part of their regular daily or weekly family routine. At least once a week, I suggest they post a quote on a refrigerator or bulletin board, discuss it before school or at bedtime, or incorporate a conversation into family meals or car rides. Whatever the venue, parents should begin by having children read the quote aloud and then provide the child with 30-60 seconds to think about the quote's meaning and relevance. Then, they should ask the child to share his or her thoughts.
Together, the family may choose to identify the habit or larger idea the quote addresses, offer interpretations of the quote's meaning, or share examples demonstrating how the quote applies to their daily lives. It's important to emphasize that there are no right or wrong answers. Other ideas can found in an article I have posted on my website entitled, "Discuss Quotes to Promote Literacy Development."
Q.  I like the way your book is organized, with "talking points" for each quote. Can you share one example of how you used a particular quote with your class and about an insightful conversation that followed?
A.  One anecdote pertains to the quote: "The difference between ordinary and extraordinary is that little EXTRA." One morning my students and I discussed the quote, and then later that day a student seemed to be working a bit harder than usual on a class project. When I noticed this extra effort and approached the student, she told me that she wanted to give that little extra effort so that her work would be extraordinary, not ordinary.
Q.  That's a wonderful example of how children apply learning in their own individual ways! I'm wondering about the various ways teachers can use these quotes in the classroom? In your experience, what age-groups of student's best respond to them?
A.  There are two main ways for teachers to use quotes in the classroom. The first is to incorporate "Quote of the Day" discussions into their morning routines. The second is to use the quotes for journal writing purposes. I have included a set of prompts in Changing Kids' Lives One Quote at a Time that teachers can use to structure this journal writing time.
I think quotes can be used with students of almost any age. I have used them primarily with 3rd and 4th graders, but I can easily see many of the quotes being used with students as young as kindergarten. If someone reads the quote aloud to younger children, they can come up with very interesting interpretations. Whether or not the interpretations would sound logical to adults isn't the point. The quotes are meant to be conversation starters, and they can start fascinating conversations with kids of various age groups.
Q.  Overall, how has your classroom changed as the result of using these quotes?
A. The quotes have played an important role in my effort to help develop character in children. The "Quote of the Day" discussions provide us with a forum to talk about what's happening in our class, share personal stories and relevant examples from our lives, and analyze the habits of character from a variety of different angles. I simply cannot imagine teaching a group of students without using these quotes.
[In addition to Changing Kids' Lives One Quote at a Time, Steve Reifman has written Eight Essentials for Empowered Teaching and Learning, K-8.  He is also the creator of the Chase Manning Mystery Series for kids 8-12. Each book in the series features a single-day, real-time thriller that occurs on an elementary school campus. You can purchase books by Steve Reifman on Amazon
. For weekly teaching tips and other valuable resources and strategies on teaching the whole child, visit the Steve Reifman website and/or follow him on Twitter.]
Disclosure of Material Connection: I received a free review copy of the book referenced in this post. Some of the links in this post are "affiliate links." This means if you click on the link and purchase the item, I will receive an affiliate commission. Regardless, I only recommend books or services that I believe will add value to my readers. I am disclosing this in accordance with the Federal Trade Commission's 16 CFR, Part 255: "Guides Concerning the Use of Endorsements and Testimonials in Advertising."
Published: March 12, 2012
Tags:
character strengths
,
classroom practices
,
critical thinking
,
education
,
learning
,
moral development
,
positive values
,
positive youth development
,
reasoning
,
teachers